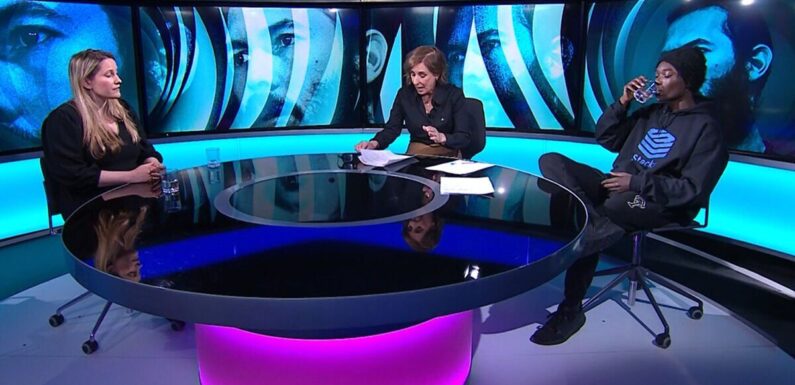 TikTok prankster Mizzy steals Kirsty's water on NewsNight
BBC Newsnight gave a platform to notorious TikTok prankster Mizzy on Thursday evening.
The 18-year-old, who has been wearing a tag after his release on bail over alleged breaches of criminal behaviour, appeared on the programme to talk about the hold misogynist Andrew Tate still appears to have on teenage boys.
Mizzy has been fined for entering someone's house for a prank he recorded, filming himself knocking a man into a road, asking a man on a railway platform if he wanted to die and running off with an elderly woman's dog, which he returned later.
Kirsty wanted to hear about his connection with brothers Andrew and Tristram Tate and to see if Mizzy would apologise for his own "pranks".
As the interview got heated, Mizzy, whose real name is Bacari-Bronze O'Garro, stole Kirsty's drink.
"Is this your water, it's my water now," Mizzy said as he snatched Kirsty's glass of water and took a sip.
BBC viewers took to Twitter to comment on the prankster's antics, with Rachel Levy writing: "Is this your water? It's my water now #mizzy #bbcnewsnight."
David remarked: "I have to say the Mizzy glass of water snatch on BBC is probably the best thing he has done. (Made me laugh out loud). #mizzy."
@LifeWithDB_ added: "No way Mizzy took her water #mizzy."
Don't miss…
BBC blasted for allowing infamous TikToker Mizzy to rant on Newsnight[REACTION]
'Why are we in a worse situation?' Patten unleashes on Brexit in BBC QT rant[UPDATE ]
EastEnders star Colin Salmon hints at soap feud[LATEST]
Norman Goldner shared: "It was fine to invite him, and was quite interesting. However, I don't think he'll be invited back for some time! @BBCNewsnight."
Mizzy launched a rant about the BBC and the mainstream media, telling Kirsty: "You guys need to realise I went there for a reason, I planted a seed… Every day of my life I've been doing social media and I'm just reporting my experiences. People are watching my journey right now."
Mizzy, who claimed he'd never called himself a prankster, said: "I don't need to do pranks no more. I'm established as a prankster, you guys call me a prankster, I've never once said I am a prankster – the media paints a picture in your brain and this is what Andrew Tate was trying to show you guys, innit."
We use your sign-up to provide content in ways you've consented to and to improve our understanding of you. This may include adverts from us and 3rd parties based on our understanding. You can unsubscribe at any time. More info
He told Kirsty he did not go along with Tate's hate-speak, adding: "Course I don't go along with that – I don't look up to Andrew Tate. He's not a role model. I am my own person and I don't look up to nobody."
Mizzy also said he apologises for some of his pranks, such as stealing a woman's dog before giving it back to her.
"I took accountability for my actions, I went the next day and apologised to the woman and also the media," he said.
BBC Newsnight airs on weeknights BBC Two at 10.30pm.
Source: Read Full Article