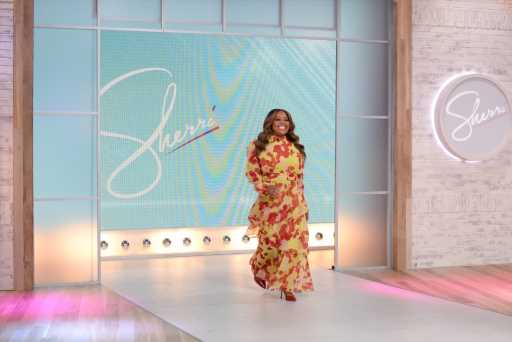 Sherri Shepherd's daytime talk show has promoted four producers, in addition to announcing its second season premiere date.
Sherri, from Lionsgate's Debmar-Mercury, upped Emmy-winning producer Fernita Wynn to executive producer and showrunner. Joelle Dawson-Calia was also promoted to executive producer, while Siobhan Schanda and Dan Fitzpatrick were named co-executive producers.
Related Story
2023 Premiere Dates For New & Returning Series On Broadcast, Cable & Streaming
All four have been with the show since its launch in fall 2022 and will work alongside Shepherd and her producing partner Jawn Murray, who are both executive producers for Sherri.
The syndicated talk show will return for a second season Sept. 18.
"I'm thrilled to have Fernita Wynn promoted to executive producer and showrunner and lead the production team at Sherri for season two. I'm also happy to announce the elevation of Joelle Dawson, Siobhan Schanda and Dan Fitzpatrick, who will work alongside Jawn Murray and me as we continue to bring our 'good time' to daytime," said Shepherd in a statement. "I'm grateful for this rockstar TV team that helped make the first season of Sherri a success and the No. 1 new talk show in daytime. Expect the unexpected as we embark on our second season!"
Fox Television Stations recently renewed Sherri for two years through the 2024-25 season. The weekday talk show, which ends its first season on June 16, originates from New York's Chelsea Studios in front of a live studio audience.
In its first season, the show garnered an NAACP Image Award for Outstanding Talk Series and also received four Daytime Emmy nominations, including a nod for Outstanding Daytime Talk Series Host for Shepherd. The show is also a Bronze Telly Award Winner for its season 1 digital launch campaign, "Fun.Joy.Laughter."
Must Read Stories
Global Solidarity Day In About 20 Countries: "Screenwriters Everywhere"
Guillermo del Toro; Chris Meledandri & Pharrell Williams; Vicky Jenson On 'Spellbound'
Hoping Not To Be Gone In A 'Flash': Ezra Miller DC Pic Eyes $155M+ Global Bow
Jason Bateman To Star In & Direct 'Daddy Ball' Series As Netflix, Aggregate Win Bidding
Read More About:
Source: Read Full Article