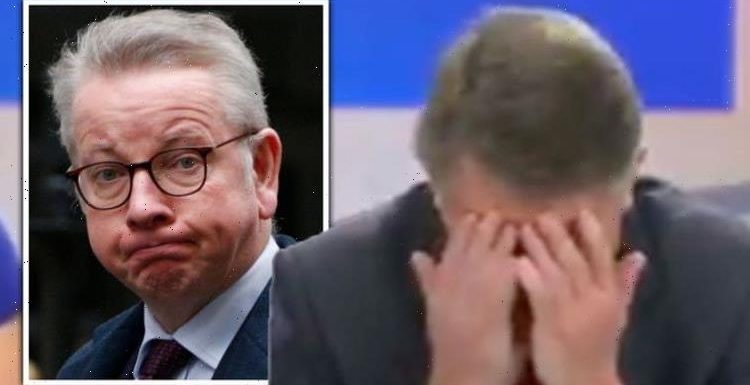 Broadcasters react to Michael Gove raving in Aberdeen
We use your sign-up to provide content in ways you've consented to and to improve our understanding of you. This may include adverts from us and 3rd parties based on our understanding. You can unsubscribe at any time. More info
Simon McCoy and Kirsty Gallacher returned to the Great British Breakfast on Monday as the pair resumed their hosting duties on GB News. During the news programme, the pair discussed footage of Michael Gove hitting the dance floor in Aberdeen as McCoy showcased his exasperation at the Tory MP's latest move.
McCoy began: "Here's something you don't see every day, thankfully.
"This is cabinet office minister Michael Gove spotted raving.
"Let me say it again, Michael Gove spotted raving in an Aberdeen nightclub alone in the wee small hours.
"He was taking selfies and dancing with his arms in the air, onlookers said he was quite merry."
Read more: Defence minister on the spot as Naga exposes key Kabul issue
"Let's just listen and watch this for a second," McCoy added before showing viewers footage of Gove's antics.
Holding his head in his hands, McCoy asked Gallacher: "Is it finished?"
"There's nothing wrong with that, he's just having a little dance," she commented.
McCoy gave Gallacher a look that appeared as if he disagreed as she repeated: "There's nothing wrong with it but it is funny."
Michael Gove stuns clubbers as he raves in Aberdeen
McCoy called on GB News viewers to get in touch and share their opinion on the footage.
"Apparently he turned up quite late," Gallacher said. "It was quite a late thought that he might just go for a rave."
"I'm all for dad dancing," McCoy remarked. "But that's another league altogether."
"Yes with the suit on," Gallacher quipped and her co-host added: "At 2:30 in the morning but it's good to see him relaxing."
DON'T MISS
David Attenborough unveiled as Strictly Come Dancing contestant? [INTERVIEW]
A Place in the Sun: Scarlette Douglas on huge change to housing market [INSIGHT]
Celebrity MasterChef viewers blast John Torode and Gregg Wallace [VIDEO]
Despite McCoy's disdain at Gove's dance moves, GB News viewers disagreed with the host and praised the Tory MP.
One tweeted: "Why are people so incredibly mean? I just see a man enjoying himself.
"How would you feel if people said things like that about your dancing?. I hope all this meanness doesn't stop him from dancing in future."
Another wrote: "There are no rules to dancing. Leave him alone. You [email protected]!"
What is happening where you live? Find out by adding your postcode or visit InYourArea
"The guy is enjoying himself, having a good time, causing no harm! What's the problem?? Good on you @michaelgove," a third said.
Someone else added: "Hilarious footage Good to see such a senior politician not taking himself too seriously and having some fun."
A fifth asked: "Why are you mocking? Dancing is ALWAYS good!"
"Good for Mr Gove What is wrong with having a good time and enjoying yourself? For goodness sake is the man not allowed to let his hair down, once in a while? Surely this is something we are all entitled to do, and don't most dads dance this way anyway?" Another shared.
The Great British Breakfast airs on GB News daily at 6am.
Source: Read Full Article