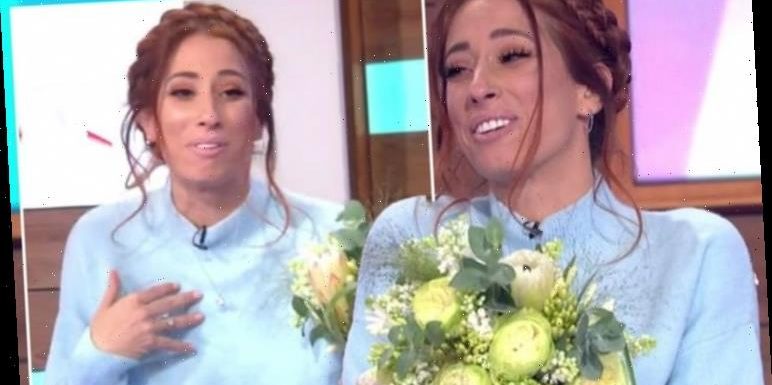 Loose Women: Joe Swash discusses proposing to Stacey Solomon
Over the Christmas period, Loose Women star Stacey Solomon announced the news that her partner Joe Swash had proposed. The pair, who have been dating since 2015, both appeared on the ITV show today to discuss the big moment after initially breaking the news on Stacey's Instagram page. However, as the former X Factor delved into the details, she revealed she almost missed the special moment Joe had planned.
Speaking on Loose Women, Stacey revealed it was Christmas Eve when Joe had wanted to pop the question.
Joe had planned an adorable setting in a nearby woods to ask the question – but Stacey admitted they almost didn't make it there.
She told her fellow panellists: "We were all in the house, it was Christmas Eve, I had made everyone wear gnome jumpers.
"We go for a walk in the woods behind our house every day, it's been a saviour in lockdown… and Joe was like, 'Come on, we've got to go for a Christmas Eve walk."
We will use your email address only for sending you newsletters. Please see our Privacy Notice for details of your data protection rights.
Loose Women: Joe Swash discusses proposing to Stacey Solomon
Stacey Solomon sets record straight on 'secret room' in home
Stacey continued: "I was like, 'Yeah yeah, don't worry' and all of a sudden he started getting really frantic about it, saying 'It's getting dark!'
"We get out the house in this big huff, we're walking along and he had someone put these white roses around these two trees that the boys always run through."
The Loose Women star then detailed how she wildly misinterpreted her other half's touching gesture.
"I was like, 'Oh my god, I think someone has passed away in our woods.'" Stacey said.
"He was like, 'Come on let's have a look, let's pay our respects.'"
After she got closer to the roses, Stacey confessed the moment began to settle in – although she wished she'd had an inkling it was going to happen.
"I wish he had given me the heads up," Stacey told her co-stars. "Just the slightest clue…
"It was Christmas Eve, it was only us so I was wearing my slippers, my gnome jumper."
DON'T MISS:
Britain's Got Talent SCRAPPED: ITV forced to postpone show
Beat the Chasers fans demand quizzers 'disqualified' over 'mistake'
Phillip Schofield open-mouthed over guest's reaction to Trump protests
Joe surprised his fiancee moments later as he beamed into the studio via video link to join in the conversation.
Despite Stacey almost sending the moment off track on the day, Joe explained his thought process behind the proposal and how she'd almost derailed it all days earlier.
"I was originally going to do it on Christmas Day but Stacey kept pushing," Joe revealed.
"I had it planned for months and months and then she kept saying, 'Oh wouldn't it be nice if we got engaged on Christmas Day?'
"By this time, I had already designed the ring, spoken to her dad and her sister, so I thought, I will push it forwards slightly and do it (on) Christmas Eve.
"I definitely surprised her because she looked absolutely lovely in that forest."
The pair haven't set an exact date for their big day but both revealed on Loose Women they're looking at 2021.
Loose Women continues weekdays at 12:30pm on ITV.
Source: Read Full Article