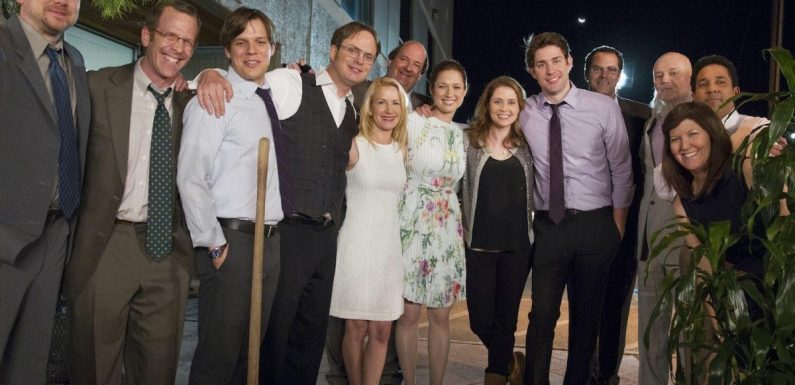 The Office cast has many fond memories of their time on the series, but Ellie Kemper, who played Erin, has one standout moment that she'll never forget. Kemper recalled the one scene that was so hilarious she literally peed her pants.
'The Office' employees have to work on a bus
Kemper said there was one hilarious scene during The Office Season 9 episode "Work Bus" that made her laugh so hard, she peed herself. In the episode, the Dunder Mifflin employees are forced to work on a bus so repairs can be done in the office.
The bus, however, doesn't provide enough space for the employees to work productively and tensions being to rise, so Jim pitches the idea that they drive the bus to a rural pie stand to boost morale.  
As Dwight drives the bus, the employees are already in better spirits and start singing "Shabooya Roll Call." During an interview with Insider, Kemper recalled how the scene was particularly hilarious to her at the time.
Ellie Kemper said she peed her pants during 1 hilarious 'The Office' scene
Kemper was candid about having an accident during the scene. "My favorite memory from The Office is once, we were shooting an episode called 'Work Bus,' and we actually called it 'Death Bus' because a lot of things went wrong on that bus," she explained. "And our lives were in danger."
The actor continued, "But there was one really funny moment where … you had to be there. I'm saying this, but it will not make sense to anyone. It didn't make sense to me at the time. But I was laughing so hard during this song called 'Shabooya' that I just wet my pants."
The male cast members were a little taken aback by the situation. "And I stood up and I said, 'I have to change my skirt because I wet my pants,' and all the guys were so grossed out," she explained. "Not one lady batted an eye. They were like, 'Of course you wet your pants. What can we do?'"
'The Office' star said the 'Work Bus' episode was dangerous
Kemper talked about the moment again during the Sept. 21 episode of The Office Deep Dive With Brian Baumgartner podcast.
When Baumgartner asked, "Do you have any favorite moments?," Kemper said, "Some of my favorite things … Erin really lived out how crazy she was, I loved those moments. I loved 'Cafe Disco,' I loved that episode. I loved dancing with Mindy [Kaling] and it was just a weird episode that was so funny."
She continued, "And I loved the bus episode, directed by Bryan Cranston. Brian, you remember, we all almost died?"
Baumgartner shared, "Yes, we almost were given carbon monoxide poisoning." Kemper confirmed, "To name one of many ways we almost died. At the time I don't think I was enjoying it and now, in retrospect, I'm like, 'That was fun!'"
She jogged her co-star's memory about The Office scene on the bus. "You'll remember, I wet my pants on that bus during the 'Shabooya Roll Call,'" Kemper said. "It was like, I don't know what you guys were doing but I got a case of the giggles and I wet my pants. And I was like, 'How long can I hide this or should I just fess up right away?' And I did fess up right away."
Kemper added, "And all the ladies were like, 'Oh you need another skirt?' Like nobody was fazed and literally all the guys — because I had said it sort of loudly … the guys didn't understand it. But the ladies had my back."
Source: Read Full Article