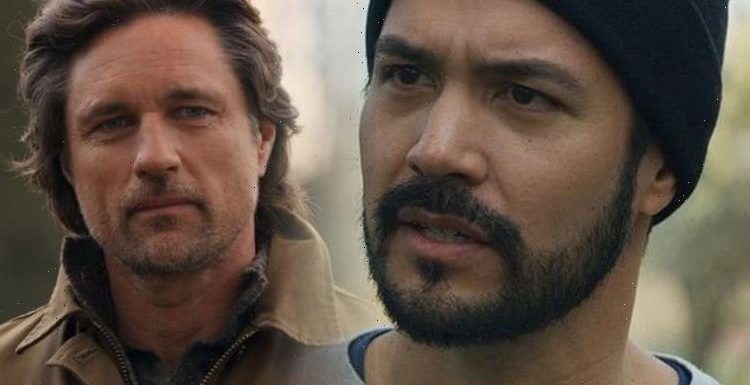 Virgin River: Netflix releases trailer for third season
We use your sign-up to provide content in ways you've consented to and to improve our understanding of you. This may include adverts from us and 3rd parties based on our understanding. You can unsubscribe at any time. More info
Virgin River season four could be on the cards for Netflix following the success of the romance drama. Season three saw Jack Sheridan (played by Martin Henderson) recover from the shooting at his bar. However, he lost all memory of the tragic event and was unable to identify the person who shot him.
Did Mike shoot Jack in Virgin River?
Fans were hoping season three of Virgin River would reveal who shot the bar owner in the season two finale.
Sadly, the investigation is still underway as Jack was unable to remember much from that night.
Luckily, he made a full recovery and was able to get back to work, but he continued to suffer plenty of setbacks.
His relationship with Mel Monroe (Alexandra Breckenridge) hit rock bottom as she wanted to have a baby with him.
Already coming to terms with being a father to Charmaine's (Lauren Hammersley) twins, he could not cope with the idea.
As well as this, he was growing more frustrated at the fact his 'killer' was still on the loose.
At the end of the season, Jack's old friend Brady (Ben Hollingsworth) was arrested after police found a gun at his home.
Although he had been in an argument with Jack prior to the shooting, he was adamant he had been set up.
There is a possibility it was actually Jack's cop-friend Mike Valenzuela (Marco Grazzini) who shot Jack.
Brady had confronted Mike over accusing him of the shooting and the pair ended up getting into a fight at Jack's bar.
Brady said something interesting about Mike having plenty of secrets and he was aware of something Mike had done in his past.
Mike was quick to silence Brady by hitting him, and he said he wished Brady was behind bars.
The police officer, who is leading on Jack's case, could have been the one to set Brady up in order to keep him out of the picture.
If he knew Brady was close to revealing the truth about Mike's past, Mike could have taken drastic measures to make sure he stays quiet.
Mike is the last person Jack would suspect as he has helped the bar owner out with cases before.
He comes across as the ultimate good guy, so nobody would have any reason to presume he had an issue with Jack.
However, there could have been an event from their time together in the Marines that is starting to resurface.
Fans took to Instagram to share their thoughts, with one saying: "I think it was that cop friend that shot Jack. Something is off about him."
Another said: "I think that too. He's been around there too much and whatever he's hiding from Afghanistan will be the issue."
Mike has always taken a disliking to Brady, and it may be because Brady was close to revealing all about Mike's past.
Brady and Mike may have been together in Afghanistan when something bad happened, and only Brady knows about it.
Another fan said: "I also have my eye on Mike for some strange reason.
"He's eager to get Brady in jail, and remember Brady also knows what he did when they were fighting the war."
Fans are convinced Brady is innocent and they are keen to see if he is able to argue his case in a potential season four.
The series has not been given the green light yet, but it is likely to come to fruition soon.
Virgin River seasons 1-3 are on Netflix now.
Source: Read Full Article