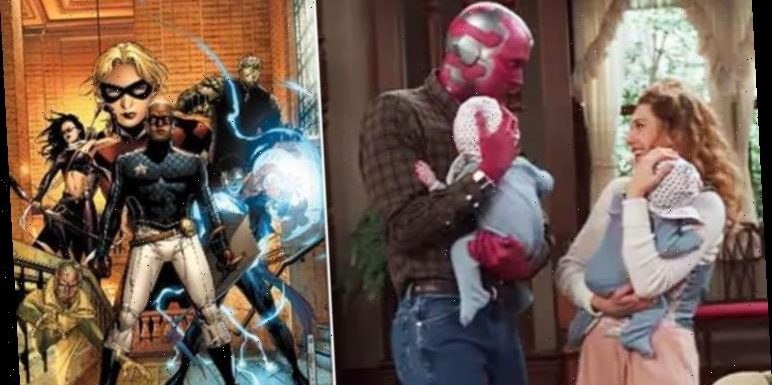 WandaVision: Elizabeth Olsen stars in Disney+ series trailer
This morning the third episode of Marvel's WandaVision hit Disney+ and this time took place in the world of a 1970s sitcom. As seen at the end of the last outing, Scarlet Witch is suddenly pregnant. WARNING SPOILERS AHEAD.
Well as Marvel fans saw this morning, Scarlet Witch's pregnancy sped up throughout the episode.
As a result, Wanda and Vision threw around some baby names including Tommy and Billy before twin boys were born.
Now Marvel Comics fans will know that Tommy and Billy are indeed the sons of the mutant and robot.
And interestingly they both grow up to be members of the Young Avengers, so could a movie be on the way?
We will use your email address only for sending you newsletters. Please see our Privacy Notice for details of your data protection rights.
In the comics, Scarlet Witch used her reality manipulating powers to create her twin sons, which appears to be what happened in WandaVision.
Tommy aka Thomas Shepherd grows up to be a Marvel superhero called Speed. Just like his uncle Quicksilver, he is a mutant who can run unbelievably fast.
Meanwhile, Tommy's brother Billy aka William Kaplan-Altman becomes a Young Avenger called Wiccan.
Just like his mother Scarlet Witch, Wiccan has incredibly magical abilities, including reality warping.
The Falcon and the Winter Soldier: Marvel tease Disney+ series
Apart from Speed and Wicca, the Young Avengers include superheroes who are also being introduced into the MCU's Phase 4.
They include Kate Bishop, Hawkeye's prodigy who eventually takes up his mantle. Hailee Steinfeld has been cast as the archer in Disney+ show Hawkeye, which is set for release later this year.
While another member is Cassandra Lang aka Stature, who is the daughter of Scott Lang aka Ant-Man.
Cassie was played by Abby Ryder Fortson in Ant-Man and Ant-Man and the Wasp, while Emma Fuhrmann portrayed her as a teenager in Avengers Endgame.
DON'T MISS
Doctor Strange 2: Jennifer Lawrence's Mystique 'wanted by Marvel' [DOCTOR STRANGE 2]
Tom Hanks heard Elvis stories from Viva Las Vegas makeup artist [ELVIS]
Led Zeppelin's Jimmy Page played on James Bond theme Goldfinger [JAMES BOND]
However, Cassie has been recast by Kathryn Newton for Ant-Man and the Wasp: Quantumania, which will probably release in 2022 or 2023.
Aside from Speed and Wiccan, it's heavily rumoured that their uncle Quicksilver will feature in WandaVision.
Aaron Taylor-Johnson's speedster was briefly mentioned in episode 3; specifically his death in Avengers: Age of Ultron.
However, the Quicksilver to show up may very well be an alternate version from the Fox X-Men movies, played by Evan Peters.
Disney bought the rights Fox and therefore the use of the X-Men and Fantastic Four with it.
And rumours have been abounding of Fox superheroes appearing in the MCU as the multiverse is explored.
Rodri Martín, who was the Spanish dub for Peters' Quicksilver in the Fox X-Men movies, said in a now-deleted tweet how it was a privilege to voice Pietro again for what can surely only be WandaVision.
Who knows if only a cameo is planned or his alternate speedster is here to stay in the MCU.
Source: Read Full Article