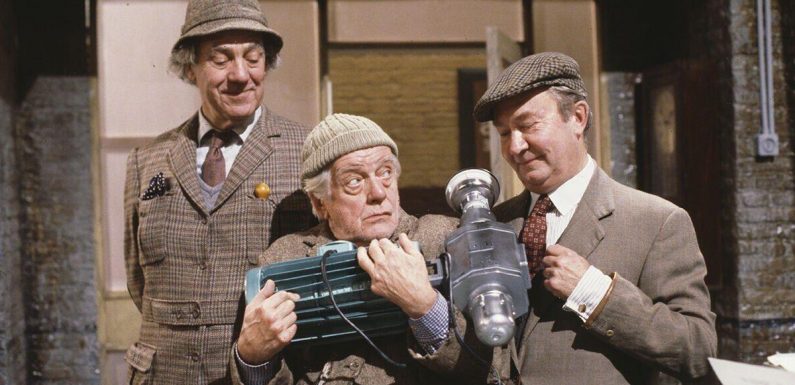 Peter Sallis wore his own clothes in 'Last of the Summer Wine'
We use your sign-up to provide content in ways you've consented to and to improve our understanding of you. This may include adverts from us and 3rd parties based on our understanding. You can unsubscribe at any time. More info
Last of the Summer Wine originally aired on the BBC, with the first episode launching in 1973. Tonight, Channel 5 will air a celebration special with contributions by members of the cast and crew. Express.co.uk has all you need to know about what happened to the original cast.
Where are the Last of the Summer Wine cast now?
Norman Clegg – Peter Sallis
Peter Sallis was a British actor who was also known for voicing Wallace in the animated Wallace and Gromit films.
He starred in Last of the Summer Wine from its debut until the final episode, making him the only actor to appear in all 295 episodes.
Peter also played Norman Clegg's father in the prequel series First of the Summer Wine.
The actor died aged 96 back in June 2017, at Denville Hall, a professional actors' retirement home.
He was buried next to fellow Last of the Summer Wine actor Bill Owen.
One of his last acting roles was in the TV show Wallace and Gromit's World of Invention.
Compo Simmonite – Bill Owen
Bill Owen was an English actor who played Compo for more than 25 years.
He died aged 85 in 1999 after battling pancreatic and bowel cancer, having first fallen ill whilst filming the series.
Bill continued working right up to his death, with his last on-screen appearance being in April 2000.
Cyril Blamire – Michael Bates
Michael Bates was a British actor born in India who also starred in It Ain't Half Hot Mum and Clockwork Orange.
He died aged 57 back in 1978, following a battle with cancer, and he left behind three children.
His final TV appearance was as Bearer Rangi Ram in It Ain't Half Hot Mum in 1977.
Foggy Dewhurst – Brian Wilde
Brian Wilde was a comedy actor known for his role in Porridge and was a staple of British TV.
The father-of-two died aged 80 in March 2008, after suffering a fall from which he never recovered.
He died in his sleep at home and is survived by his wife, son and daughter.
Seymour Utterthwaite – Michael Aldridge
Michael Aldridge was an English actor known for both his stage and screen roles.
He died aged 73 in January 1994, having lived in Greenwich, London.
The star left his role in Last of the Summer Wine to be a full-time carer for his wife.
One of his last TV roles was in Stanley and the Women in 1991.
Truly Truelove – Frank Thornton
Frank Thornton was an English actor who starred in Are You Being Served? and its sequel Grace & Favour.
He died from natural causes aged 92 in March 2013, while he was asleep at home in London.
One of his last roles was as a man getting off a bus in the film Run for Your Wife.
Billy Hardcastle – Keith Clifford
Keith Clifford, from Halifax, played the role of Billy from 1999 until 2006.
He decided to leave after the 27th series and went on to make guest appearances in Christmas Lights and Coronation Street.
In 2007 he played Frank Nicholls in the ITV soap, but fans may be interested to hear he had starred in the soap before.
He played a character called Charlie West back in 1997 and his appearance spanned three years.
The actor is now 84 years old and he has four children – twin sons and two daughters.
Alvin Smedley – Brian Murphy
Brian Murphy is an English actor and comedian who starred in Man About the House and George and Mildred.
He joined the cast of Last of the Summer Wine in 2003 and stayed until the show's final season.
The father-of-two is now 89 years old and still appears to be acting, with his latest role being in 2021.
He voiced a character for two episodes in the TV series Mighty 6 and starred in an episode of Holby City in 2019.
Electrical Entwistle – Burt Kwouk
Burt Kwouk was an English actor who starred in the Pink Panther films as well as Tenko.
He joined Last of the Summer Wine in 2002 and was in the cast until the series came to an end.
Burt died aged 85 in May 2016 following a battle with cancer, at a Marie Curie Hospice.
One of his last appearances was in Whatever Happened to Harry Hill in 2012.
Hobbo Hobdyke – Russ Abbot
Russ Abbot is an English musician and actor who is known for being in the band Black Abbots.
He went on to have his own weekly comedy show on TV and joined Last of the Summer Wine in 2008.
The star is now 74 years old and he is a father of four, married to Patricia Simpson.
In December 2020, he endorsed a campaign to get the song Atmosphere to number one for Christmas.
Last of the Summer Wine: The Story of… airs on Channel 5 tonight at 7.30pm.
Source: Read Full Article