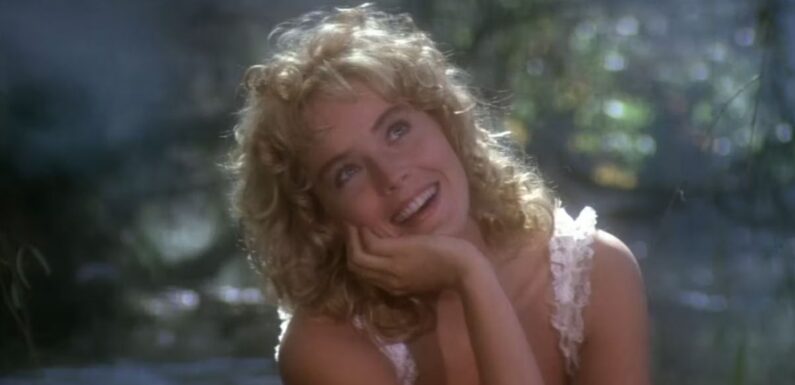 Sharon Stone is an iconic actress known for her sultry roles in films like Basic Instinct, Casino, and Total Recall. With her platinum blonde hair, piercing blue eyes, and unforgettable on-screen presence, Stone epitomized seductive roles in Hollywood. Some of Stone's most notable performances include the role of Catherine Tramell in the 1992 erotic thriller Basic Instinct, for which she earned her first Golden Globe nomination. She won the Golden Globe for Best Actress and received an Academy Award nomination for her powerful performance as the volatile Ginger McKenna in Martin Scorsese's 1995 crime drama Casino.
Despite facing numerous challenges, Sharon Stone persevered to become one of Hollywood's most acclaimed and highest-paid actresses, with a career spanning four decades.
Foundation Of An Illustrious Career
Sharon Stone, born Sharon Yvonne Stone in Meadville, Pennsylvania, in 1958, displayed exceptional academic talent during her childhood. After winning the Miss Crawford County beauty pageant, she relocated to New Jersey and pursued a career in modeling in the late 1970s, according to IMDB. However, dissatisfied with the modeling industry, Stone explored acting and took on minor roles in films such as Woody Allen's Stardust Memories (1980) and the horror movie Deadly Blessings (1981). These early acting experiences marked the beginning of her remarkable journey to stardom.
Stone's breakthrough came in 1990 when she landed a significant role opposite Arnold Schwarzenegger in Paul Verhoeven's Total Recall. Although the film achieved commercial success, Stone felt that her character was limited in scope. This realization motivated her to actively pursue the now-iconic role of the bisexual murder suspect, which would ultimately redefine her career trajectory.
Basic Instinct's Resounding Success
In 1992, Stone achieved a career-defining milestone by securing the role of Catherine Tramell in the erotic thriller Basic Instinct, starring alongside Michael Douglas. Her bold portrayal of a bisexual murder suspect captivated audiences, particularly in the iconic leg-crossing scene. Basic Instinct proved a resounding success, raking in a staggering $350 million in global box office earnings and earning Stone a $500,000 paycheck, according to Celebrity Net Worth.
RELATED: The Highest-Grossing Movies And TV Shows Of Sharon Stone, Ranked
Stone's unforgettable performance catapulted her to international stardom and garnered widespread critical acclaim. She received a Golden Globe nomination for Best Actress and clinched an MTV Movie Award for Most Desirable Female. From that point onward, Stone solidified her status as an A-list celebrity, commanding hefty paychecks ranging from $10 to $15 million per movie role during the peak of her career.
1990: A Golden Year
Riding high off the success of Basic Instinct, Stone starred in several more hits throughout the 90s. She played a crime novelist opposite Sylvester Stallone in the action thriller The Specialist (1994), which grossed $170 million worldwide and earned Stone a $5 Million paycheck. In Martin Scorsese's epic Casino (1995), she gave a powerful performance as a self-destructive gambler's wife, earning her first ever Academy Award and a Golden Globe nomination for Best Actress, according to Spectrum News. Apart from widespread critical acclaim, Stone made a $2 Million paycheck for her role.
Stone also flexed her comedic chops in The Mighty (1998) and picked up a second Golden Globe nomination for her role as a neglected housewife in The Muse (1999). She commanded multi-million dollar salaries, which included $6 Million in 1996 for Last Dance and Diabolique, according to Fanbolt. Stone took the mantle of one of the highest-paid actresses in Hollywood between 1995-2000.
Sharon's Controversy And Health Issues
However, Stone's rise to the A-list also put her directly in the spotlight, leading to intense media scrutiny. She became controversial due to her provocative film roles and openness about sexuality. Further 2001, Stone suffered a significant brain stroke that almost killed her. She had to undergo years of rehab to regain her health and speech. This devastating incident forced Stone to take a break from acting. She says this experience gave her a new outlook, focusing on her spiritual growth.
After recovery, Stone returned to acting, starring in well-received independent films like Broken Flowers (2005) and Alpha Dog (2006). She also appeared in TV shows, including Law & Order: Special Victims Unit, winning an Emmy for her guest role. Stone went on to reprise her Basic Instinct role in the 2006 sequel. The sequel, though panned by the critics, earned Stone a staggering $13.6 Million salary.
Proving her resilience, Sharon Stone continues working steadily today. In 2019, she starred as a successful author in the Netflix drama series Ratched. Stone also appeared in the French film A Little Something for Your Birthday (2021) and the comedy series The Flight Attendant (2021).
Now 64, Stone maintains her status as a timeless icon. She uses her platform to champion humanitarian causes like HIV/AIDS research and disaster relief. Though she has weathered difficult times, Stone emerges as Hollywood's intelligent, passionate force.
With decades of acclaimed performances, Sharon Stone's brilliance and magnetism remain undimmed. She has crafted an enduring legacy as one of her generation's most talented and fascinating actresses. Her journey serves as an inspiration – both cautionary and empowering – of the heights and pitfalls stardom can bring.
READ NEXT: The Net Worth Of The Cast Of 'Barbie', Ranked
Sources – Fanbolt, IMDB, Celebrity Net Worth, Spectrum News