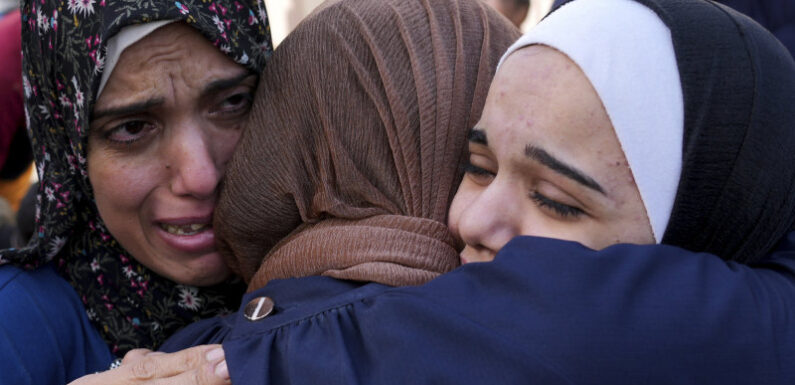 Save articles for later
Add articles to your saved list and come back to them any time.
The news
US and Israeli officials said a deal to free some of the hostages being held in Gaza was edging closer, even as Hamas gunmen battled Israeli forces trying to push into Gaza's largest refugee camp.
Witnesses reported heavy fighting overnight on Sunday between Hamas gunmen and Israeli forces trying to advance into Jabalia, the largest of Gaza's camps with nearly 100,000 people.
About 240 hostages were taken during Hamas's deadly cross-border rampage into Israel on October 7, which prompted Israel to invade the tiny Palestinian territory to wipe out its ruling Islamist group after several inconclusive wars since 2007.
Israeli tanks and troops stormed into Gaza late last month and have since wrested control of large areas of the north, north-west and east around Gaza City, the military says.
But Hamas and local witnesses say militants are waging guerrilla-style war in pockets of the densely urbanised north, including parts of Gaza City and the sprawling Jabalia and Beach refugee camps.
Even as fighting raged on the ground, Israel's ambassador to the United States, Michael Herzog, said in an interview on ABC's This Week that Israel was hopeful a significant number of hostages could be released by Hamas "in coming days".
Reuters reported on November 15 that Qatari mediators had been seeking a deal between Israel and Hamas to exchange 50 hostages in return for a three-day ceasefire that would help boost emergency aid shipments to Gaza civilians, citing an official briefed on the talks.
A White House official also said the "very complicated, very sensitive" negotiations were making progress.
"I believe we are closer than we have been in quite some time, maybe closer than we have been since the beginning of this process, to getting this deal done," White House deputy national security adviser Jon Finer told NBC's Meet the Press.
Over the weekend, US President Joe Biden said the Palestinian Authority should ultimately govern the Gaza Strip and the West Bank following the Israel-Hamas war. "There must be no forcible displacement of Palestinians from Gaza, no reoccupation, no siege or blockade, and no reduction in territory," Biden said.
Marking a seismic shift in US policy, Biden also said the United States is prepared to issue visa bans against "extremists" attacking civilians in the West Bank.
Violence by Israeli settlers against Palestinians living in the Israeli-occupied West Bank has increased since the October 7 Hamas attack on Israel.
Elsewhere in the conflict:
A team led by the World Health Organisation that visited Al Shifa, Gaza's biggest hospital, described it as a "death zone", days after advancing Israeli forces seized the premises to root out an alleged underground Hamas command centre.
On Sunday, 31 premature babies were evacuated from Al Shifa in a joint operation by the UN and Palestinian Red Crescent and will be taken over the southern Rafah border crossing to Egypt for hospitalisation there, Gaza's health ministry said.
After searching the grounds for days, Israel's army said Sunday it had discovered a 55-metre tunnel about 10 metres under the hospital's 20-acre complex, which includes several buildings, garages and a plaza. It said the tunnel included a staircase, blast-proof door and a firing hole that could be used by snipers. The army said it was still uncovering the tunnel's route.
The Associated Press couldn't independently verify Israel's findings.
Israel's government said on Sunday that Iran-backed Houthi rebels in Yemen hijacked a cargo ship in the Red Sea, endangering a key global shipping route. The vessel, named Galaxy Leader, is owned by Israeli businessman Rami Ungar, according to a person familiar with the matter.
The commissioner-general of the UN agency for Palestinian refugees, Philippe Lazzarini, said 24 people were killed in what witnesses described as an Israeli airstrike on a school in a crowded UN shelter in Jabaliya the day before. The Israeli military, which has repeatedly called on Palestinians to leave northern Gaza, said only that its troops were active in the area "with the aim of hitting terrorists."
US government workers from the State Department to NASA are circulating open letters demanding that President Joe Biden pursue a cease-fire in Israel's war against Hamas. Congressional staffers are picking up microphones in front of the Capitol, speaking out to condemn what they say is the silence of lawmakers about the toll on Palestinian civilians.
The human toll
Since Hamas' October 7 attack, more than 11,500 Palestinians have been killed, according to Palestinian health authorities. A further 2700 have been reported missing, believed buried in rubble.
The count does not differentiate between civilians and combatants; Israel says it has killed thousands of militants. About 1200 people have been killed on the Israeli side, mainly civilians killed during the October attack, in which the group dragged some 240 captives back into Gaza and shattered Israel's sense of security.
The military says 63 Israeli soldiers have been killed, including 12 over the past 24 hours.
The response
UN Secretary-General Antonio Guterres said: "This war is having a staggering and unacceptable number of civilian casualties, including women and children, every day. This must stop."
US President Joe Biden said in an opinion article in the Washington Post: "As we strive for peace, Gaza and the West Bank should be reunited under a single governance structure, ultimately under a revitalised Palestinian Authority, as we all work toward a two-state solution … there must be no forcible displacement of Palestinians from Gaza, no reoccupation, no siege or blockade, and no reduction in territory." Biden also wrote: "I have been emphatic with Israel's leaders that extremist violence against Palestinians in the West Bank must stop and that those committing the violence must be held accountable."
A US congressional staffer said: "Most of our bosses on Capitol Hill are not listening to the people they represent."
Jordan's King Abdullah said: "Gazan families being bombed out of their homes are victims of this collective punishment, with no place to take shelter. No hospital, no school and no UN building is safe any longer."
Republican Senator Kevin Cramer said: "I'm not suggesting we start a full-fledged war with Tehran. But I do think our posture has to be a little more aggressive than just strictly defensive, because one of these days, we're going to miss one of those drones."
More coverage of the Hamas-Israel conflict
Hamas had bigger plans on October 7: Intelligence about Hamas' motivations reveals an intention to strike a blow of historic proportions and provoke an overwhelming Israeli response.
Escape from chaos: An Australian father faced a heartbreaking dilemma – whether to flee Gaza to his children, or stay with his wife.
Open letters: Mass resignations, boardroom turmoil and angry donors are some of the ways the Israel-Hamas war is filtering down into Australia's high-powered arts world.
Gaza's youth: One of the cruellest ironies of war is that they are never started by children, yet it is children who suffer the most.
Get a note directly from our foreign correspondents on what's making headlines around the world. Sign up for our weekly What in the World newsletter.
Reuters, AP
Most Viewed in World
From our partners
Source: Read Full Article