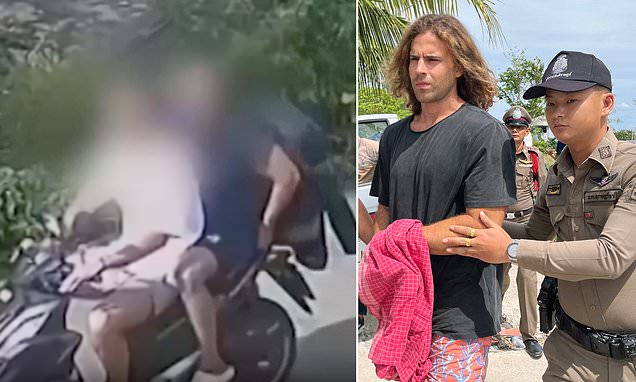 CCTV shows YouTube chef, 29, riding with gay partner on a scooter during Thailand holiday before he 'killed the 44-year-old, cut his body into pieces and hid pieces in bags after arguing about sex'
Daniel Sancho Bronchalo was detained after body parts were found at a landfill 
The influencer was on a trip with his partner to Thailand's Full Moon Party island
READ MORE:  Chef 'confesses to murdering and dismembering his gay lover'
A YouTube chef who allegedly murdered and dismembered his gay lover was caught on CCTV riding a scooter with his partner in the days leading up to the gruesome killing on Thailand's Full Moon Party island.
Daniel Sancho Bronchalo – who is also the son of Spanish actor Rodolfo Sancho Aguirre and actress Silvia Bronchalo – is accused of battering Colombian plastic surgeon Edwin Arrieta Arteaga to death on Koh Pha Ngnan last Wednesday.
The 44-year-old's body parts, including his hips and thighs, were found by horrified locals at a rubbish dump on Thursday, August 3.
Social media star Sancho arrived in Thailand on July 31 as a tourist. Police have since claimed that he confessed to killing Arrieta in an argument over 'sex and money'. 
The 29-year-old appeared before a court on Monday as police sought his continued detention for investigation, Police Major General Saranyu Chamnanrat said.
Spanish chef Daniel Sancho Bronchalo (C), is escorted by Thai police officers to the court from Koh Phangan police station on Monday
Police say the body of Edwin Arrieta Arteaga (pictured) was found dismembered in a rubbish tip on the island of Koh Pha Ngnan on Thursday
A still image from CCTV video appears to show Sancho and his partner riding a scooter together in the days before Arrieta's death
Sancho was pictured being escorted to and from court by police, and appeared to tell local reporters outside: 'I am so sorry this happened. So sorry.'
He is in custody, where he is reportedly on suicide watch, and was yesterday pictured leading Thai police around areas of interest in relation to Arrieta's death. 
It is alleged the chef cut Arrieta's body into 14 pieces before dumping them in the sea and other places around the island before filing a missing persons report.
He was detained shortly after body parts were found at a landfill on Koh Pha Ngan, an island well-known to tourists for monthly 'full moon' parties. Police say he has confessed to the crime.
The police said DNA tests of the remains proved them to be of Arrieta, adding they have other evidence against Sancho. 
CCTV footage showed by local broadcaster ThaiPBS showed Sancho and Arrieta on a motorcycle together days before the remains were discovered.
Thai police said the investigation is ongoing as authorities continue the search for the rest of Arrieta's remains.
Sancho is escorted by Thai police officers as they arrive at a port before going to the court in Koh Samui island
Sancho was pictured being escorted to court by police, and appeared to tell local reporters outside: 'I am so sorry this happened. So sorry'
On Sunday, he travelled with police to seven sites, including a beach where he is accused of dumping plastic bags containing body parts of a man police later identified as Colombian surgeon Arrieta.
Sancho, 29, is charged with premeditated murder and concealing and removing body parts to cover up the death or the cause of death of the victim, Saranyu said.
He is a social media influencer and his actor father starred in El Ministerio del Tempo (The Ministry of Time), while his mother is also an actor.
Sancho was pictured with police on a walk around of the island this morning after allegedly confessing
Daniel Sancho Bronchalo (pictured with police on Sunday, August 6) is alleged to have murdered and dismembered his gay lover
Police officers stand behind a cordon at a rubbish tip where Mr Arrieta's body was found
His family on Sunday released a statement asking for 'maximum respect, both for Daniel Sancho himself and for the whole family, in these delicate moments of maximum confusion'.
Koh Pha Ngan is famed for white sandy beaches and draws thousands of backpackers to its notoriously wild 'full moon' parties.
In 2014, another tourist island Koh Tao was rocked by the double murder of two young British backpackers.
Two Burmese nationals are serving sentences of life imprisonment for the murders, but rights groups have accused Thai authorities of using the men as scapegoats.
Source: Read Full Article