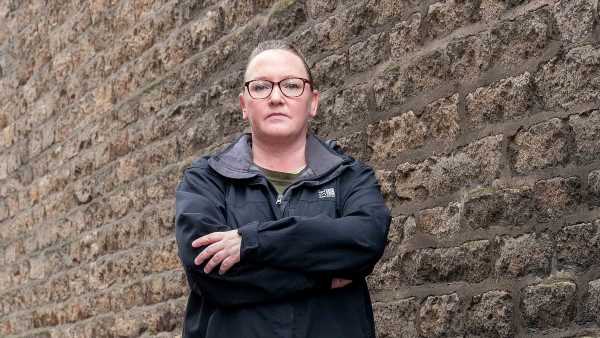 Grooming gangs are using vapes to target our children: A decade after notorious Rochdale child sex ring was jailed… predators have a chilling new tactic to exploit vulnerable young girls
EXCLUSIVE:  Rochdale locals still live under the shadow of child grooming
Parents in the troubled Greater Manchester town fear letting their kids out alone
After latest gang of abusers was jailed, predators have new tactic to lure girls   
More than a decade on from the jailing of Britain's most notorious grooming gang, Rochdale is still struggling to escape from the horrors which have for too long blighted the town.
Rochdale became synonymous with organised sexual abuse of children in 2012 when nine men led by Shabir Ahmed were jailed for up to 19 years for targeting 47 girls as young as 13.
The horrific campaign of abuse – and the failure of the police and other authorities to protect the gang's victims – sparked a national outcry and demands for a crackdown on vile child sex rings operating in other northern towns.
However after another five men were this week put behind bars for a total of more than 70 years for inflicting a campaign of degrading abuse on young girls in Rochdale, parents there remain fearful of letting their children out alone.
For while the repulsive crimes committed by latest ringleader Mohammed Ghani and the rest of his vile grooming ring took place over 15 years ago, police fear the predators of today have simply changed their tactics.
Rochdale became synonymous with organised sexual abuse of children in 2012
Today it is still struggling to escape from the horrors which have for too long blighted the town
This week Mohammed Ghani (pictured) was jailed for 14 years and six months after being found guilty of five counts of penetrative sex with a child
Now abusers are seeking to entrap girls as young as ten through the illicit sale of vapes, or exploit seedy hotels where staff turn a blind eye to men trying to book rooms in order to rape vulnerable underage victims, according to senior officers.
Meanwhile the shadow of the scandal of child sexual grooming by gangs of predominantly Pakistani men continues to loom over Rochdale, with a further 21 men awaiting trial over similar allegations from the early 2000s.
Even more worryingly, lawyers representing victims have told Mail Online that similar abhorrent crimes are feared to have been taking place as recently as 2018.
Michelle Dyson refuses to let her children out of the house when it's dark
Billy Howarth heads up parents against grooming in Rochdale from his shop front 
For mothers trying to raise their children in the former mill town, it means a constant fear they will become another generation of victims as they enter their teens.
'It's very scary being the mum of kids growing up in Rochdale today,' mother-of-three Emma Haskins told Mail Online this week.
'It doesn't feel like anything's changed in the past 20 years.
'Children are still getting approached in the street by men offering them things like drugs, alcohol, designer clothes, vapes – it's disgusting.
'We need more police on the streets, and tougher sentences on abusers when they are caught.'
'My son is 13 but I daren't let him out by himself after dark,' said her friend Michelle Dyson, 45.
'It's frightening to hear what's going on in this town.
'Some parents in Rochdale think grooming is all in the past, but they've got their heads in the sand.'
The friends both volunteer with a local group called Parents Against Grooming UK which is campaigning for tougher action against abusers.
Alison Hoaken, 56, said she was fearful for her 11 grandchildren growing up in Rochdale.
'It's getting worse,' she said.
READ MORE: Police must stop vile grooming gangs from abusing and exploiting children: Calls for crackdown on sex abuse rings after five predators who assaulted two girls 'like pieces of meat' in Rochdale are jailed for more than 70 years
'We've got men selling vapes to 13-year-old girls, but when I report it, nothing happens.
'It's so bad that I tell my granddaughters to be careful how they dress when they go out so they don't attract attention from these men.'
On Tuesday, Ghani and four other men were jailed for a catalogue of degrading sex abuse committed against two girls when they were 13 and 14.
Between 2002 and 2006 the girls were plied with alcohol, cannabis and Ecstasy pills before being sexually assaulted.
Horrifically, one was filmed being sexually assaulted with a bottle as men laughed after being encouraged to drink so much vodka that she blacked out.
The video was then shared around Rochdale, Minshull Street Crown Court in Manchester heard.
On another occasion she told the court she was urinated on by one man as she performed a sex act on another.
A trial earlier this year heard the victims would often be picked up from outside their schools, still in their uniforms, and sexually assaulted against a wall, in cars, in public parks or on the wilderness of nearby Saddleworth Moor.
They were taken to a flat above a disused butcher's shop – now demolished – and forced into humiliating sexual activity.
Ghani, now 39, was jailed for 14 years and six months after being found guilty of five counts of penetrative sex with a child.
His older brother, Jahn Shahid Ghani, 50, was jailed for 20 years for causing a child to engage in sexual activity and four counts of penetrative sexual activity with a child.
Jahn Shahid Ghani (left) and Insar Hussain (right) were jailed for 20 and 17 years respectively 
Ali Razza Hussain Kasmi (left) and Martin Rhodes (right)  were jailed this week for eight and twelve years respectively 
Three other men, Insar Hussain, 38, and Ali Razza Hussain Kasmi, 36, both from Rochdale, and Martin Rhodes, 39, from Blackpool, were given sentences of between eight and 17 years.
They were the first convictions arising from Operation Lytton, a push by Greater Manchester Police (GMP) to secure justice for the victims of Rochdale's grooming gangs of the early 2000s.
READ MORE: Oldham Council leader apologises for 'failing' to protect children from sexual exploitation and grooming gangs after report exposes how one 12-year-old victim was sent away by police only to be repeatedly raped by five men
Earlier this year its tough-talking Chief Constable, Stephen Watson, revealed that a further 21 men were due to face two separate trials in 2024 and 2025 accused of 179 sexual offences, with additional charges being considered.
He said a 100-strong team was working on a similar investigation in neighbouring Oldham, where children were failed by the very agencies meant to protect them, a damning independent report revealed last year.
A follow-up report focusing on Rochdale by the same team – commissioned after the intervention of Greater Manchester Mayor Andy Burnham – is expected to be released later this year.
Here too, the problem hasn't gone away – shockingly, 522 children aged under 16 were referred to police or social services in Oldham last year over concerns they were being sexually abused.
That is almost seven times higher than the equivalent figure in 2014.
In response, Oldham council's director of children's services, Gerard Jones, denied that 'mass grooming' was taking place in the town.
But he warned that 'dangerous individuals' were finding new ways of targeting young people, for example online exploitation.
Anger over a perceived lack of action against groomers in Oldham boiled over this summer as a council meeting had to be adjourned twice, with furious protesters shouting at councillors.
Following this week's sentences, officers have stepped up warnings about the dangers of a new generation of abuse gangs seeking to exploit children in Rochdale for sex or to get involved in crime.
Rochdale's Parents Against Grooming shop  which is campaigning for tougher action against abusers
A favoured tactic for the abusers of 2023 is to win their trust by handing out vapes, according to Chief Superintendent Nicky Porter, GMP's district commander for the town.
A key 'gateway' for sexual or criminal exploitation involves 'enticing young people with things that are desirable, that they might not be able to afford, like vapes that at the moment are very much a must-have commodity for some young people,' she said this week.
'It starts with vaping, it might be encouraging young people to smoke vapes in a certain location, and then young people can find themselves in very vulnerable situations where they can be exploited,' she told the Manchester Evening News.
Shockingly, she added: 'The ages of young people being exploited can range from 10 up to mid-teens.'
The force says a dedicated team dubbed Operation Valiant is using local sources of intelligence to tackle this latest scourge, with 2,899 illegal vapes seized since January and 20 investigations underway.
In addition, GMP is targeting back-street hotels which it is feared are turning a blind eye to abusers, with eight 'premises of concern' identified.
It says giveaways include adult males trying to book rooms in secluded areas for them and underage females for a short period of time, often an hour in the daytime.
Alicia Langley, of Manchester-based Farleys Solicitors, who represented one of the girls in the latest trial, said its abuse team continues to be contacted by victims of grooming gangs – including one whose abuse continued until as recently as five years ago.
'Child sexual exploitation remains a prevalent issue across the country,' she told Mail Online this week.
'There have been noticeable improvements in how police forces are approaching investigations into grooming gangs.
'The exploitation is being treated as criminal conduct and victims are no longer being treated as willing participants.
'The police are also reopening old allegations rather than dismissing them.
'However, we feel that there needs to be further multi-agency action between the council, police and other partner organisations in order to identify perpetrators of child sexual exploitation and protect victims.'
For its part, Rochdale's Labour-controlled council insists tackling organised child abuse is a top priority.
'No amount of time in prison can replace the years that these abusers have stolen from their victims and we again pay tribute to the courage they have shown in bringing these men to justice for their appalling crimes,' Sharon Hubber, director of children's services at Rochdale Borough Council, said after this week's sentencing.
'This latest trial, which comes after several others, demonstrates Rochdale remains resolutely determined to find and prosecute perpetrators of abuse.'
Source: Read Full Article