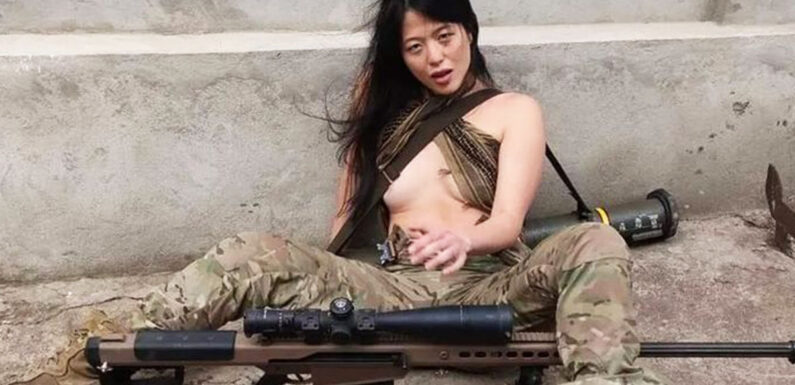 An American woman who traveled to Ukraine following Russia's invasion has become an "emotional support stripper" for soldiers and volunteers fighting in the war.
Fan-Pei Koung, from Houston, Texas, uses her OnlyFans account to entertain Ukrainian fighters – and to make cash for humanitarian causes.
Her content ranges from stripteases as air raid sirens go off in the background to topless pics posed with rocket launchers.
While she started out volunteering at women's shelters and orphanages in Ukraine, Koung has put her talents to alternative use while in the war-torn country.
According to her OnlyFans profile, Koung offers free emotional breastfeeding to soldiers and volunteers" and distributes cash donations to Ukrainians and volunteers.
READ MORE 'I met my fiancé on OnlyFans – I'm fine with her making raunchy videos with men'
She told the Daily Beast: "I'm the sexy girl in Ukraine who wants to volunteer, and will probably put out."
Kuong, who is a former Miss Taiwanese American Pageant competitor, first travelled to Ukraine in November 2022, working for humanitarian causes far away from the front lines in Lviv.
She moved to Ukraine permanently in February 2023, and since then she has volunteered in the eastern Donbas region, where much of the fighting between Russia and Ukraine has taken place.
Outside of her OnlyFans work, she has offered support in orphanages and shelters and is learning Ukrainian.
Don't miss…
'I met my fiancé on OnlyFans – I'm fine with her making raunchy videos with men'[INSIGHT]
'I'm running for mayor and using OnlyFans to fund my campaign'[REPORT]
'No limit to what Putin's willing to do' as mines found at Ukraine nuclear plant[LATEST]
We use your sign-up to provide content in ways you've consented to and to improve our understanding of you. This may include adverts from us and 3rd parties based on our understanding. You can unsubscribe at any time. More info
She has also struck up relationships with Ukrainian and international fighters during her time there, and she is currently dating a Ukrainian drone operator, a power plant worker and two information technology workers, according to the New York Post.
She also began a relationship with a volunteer fighter from the UK who had been on the frontlines in the Donbas region.
Kuong told the Daily Beast: "I'm there talking with him for six hours about how he's coping, his relationship issues. I feel so safe with this guy.
"At some point, I was holding him and stroking his hair, and he said, 'I feel precious like a kitten. I haven't been touched in two years.'"
While Kuong feels her activities are an act of good, she claimed others have disagreed, with one explosive group chat full of volunteer fighters having a go at her.
She explained: "These guys just tore me for three days straight!
"I think there's a couple hundred people in this group, and they said, 'You want to make porn off of mass graves?'
"People don't talk about the sexual needs of the people of country at war," she said with a laugh.
"Think about the one part of you that needs to have a person you can confide in.
"I try to do that for anyone who speaks English, or Ukrainian at a 3-year-old level."