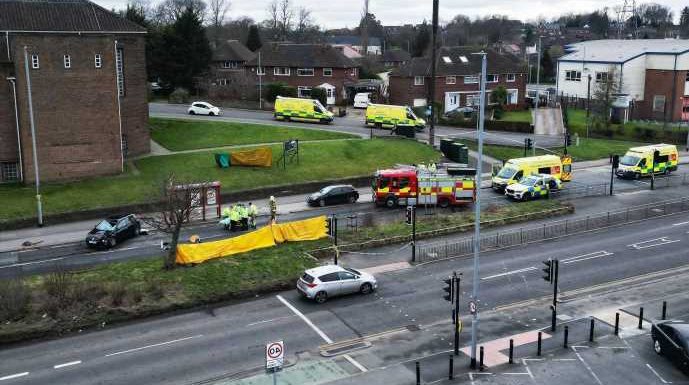 A WOMAN has died and a man is seriously injured following a crash during this morning's rush hour in Leeds.
A car allegedly mounted the pavement behind a bus stop and ploughed into a queue of people waiting at 8.30am today.
Police say a VW Golf came over the brow of a hill and hit the shelter at the junction of Stanningley Road and Cockshott Lane outside the former Church of the Venerable Bede.
The driver smashed into the structure, ending up as twisted wreckage a few yards away with its back wheels still on the pavement.
A woman was pronounced dead at the scene.
A man in his 40s was badly hurt but his injuries were not believed to be life threatening. He was rushed to hospital.
READ MORE UK NEWS
Freezing cold snap to hit as UK braces for icy conditions after week of rain
Nicola cops probed by watchdog over welfare check days before she vanished
A 25-year-old woman was arrested at the scene on suspicion of causing death by dangerous driving.
The area has been sealed off for forensic investigation.
One woman living nearby said: "When I saw the air ambulance coming into land I knew something terrible had happened.
"It's horrifying – but there are no speed cameras on this road and there are so many accidents it's a nightmare."
Most read in The Sun
Chaos at ITV as host pulls out minutes before live show
Mum failed by Nicola cops left suicide note saying 'hope my life saves another'
Horror moment Dan Walker knocked out after being hit by car & flung from bike
Maddie's parents suffer 'unnecessary pain' over woman's claims, source says
Locals been calling for cameras to be installed following previous carnage.
Joanna Clarke posted: "It's the third time at least in this location pedestrians have been hit and either killed or seriously injured."
Alfie Wright added: "So sad. Hate this road, [people] think it's a race track."
Carole Laurence-Stokes stormed: "Awful road, needs sorting. So many boy racers fly up it daily.
"Not saying this is the case here however. My heart goes out to the people involved."
West Yorkshire Police said: "At 8.28am today (Wednesday), police were informed by the ambulance service of a road traffic collision at the junction of Stanningley Road and Cockshott Lane, Leeds where injuries were reported.
"Emergency services attended and found that two pedestrians had suffered serious injuries following the collision, which involved a Volkswagen Golf car and caused damage to a bus stop.
"One of these, a woman, was sadly pronounced deceased at the scene.
"The second person, a man in his forties, was taken to hospital. His injuries are not believed to be life threatening.
"The Golf driver, a 25-year-old woman, has been arrested on suspicion of causing death by dangerous driving.
"Road closures are in place and are likely to remain there for most of today while enquiries are continuing at the scene.
Read More on The Sun
Boots makes big change to 2,247 stores pulling essential products from shelves
ITV confirms future of popular show after a year off screen
"Motorists are asked to find an alternative route at this time.
Enquiries are continuing into how the collision occurred and anyone who witnessed it, or who has footage that will assist, is asked to contact the Major Collision Enquiry Team on 101, or by using the 101LiveChat facility on the West Yorkshire Police website.
"The log reference is 0290 of 22 February."
Source: Read Full Article