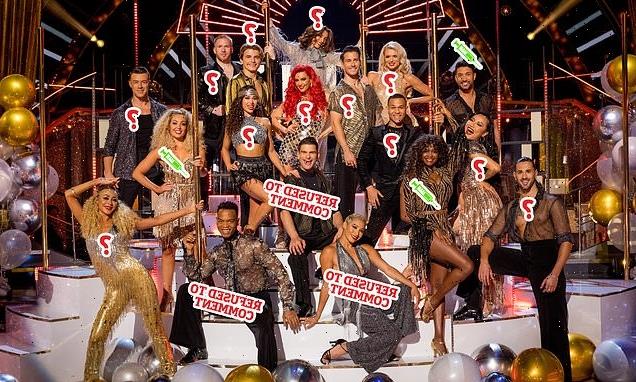 So who ARE the Strictly 'anti-vaxxers'? Mystery over trio of dancers who are refusing to be jabbed – sparking fear among celebrities forced to pair with them on show
News that three professional dancers wouldn't get Covid jabs rocked Strictly 
The identities of the three un-jabbed Strictly dancers are yet to be released 
However, one unnamed celeb star insists they will be sticking with their partner 
Mystery remains over the identity of three Strictly professional dancers who have refused to get the Covid vaccine. 
This year's show was thrown into chaos after reports emerged that three dancers were un-jabbed, with the celebrity cast said to be furious.
Boris Johnson even weighed into the row to call on 'everyone' to get the jab.  
The identity of the anti-vaxxers is unknown. Out of the dancers, Amy Dowden, Giovanni Pernice and two-time winner Oti Mabuse are known to have had the vaccine. 
Reps for Aljaž Skorjane, Johannes Radebe and Karen Hauer refused to comment on their vaccination status.
The other dancers did not respond when contacted by MailOnline. 
Despite the furore, one unnamed celeb has now revealed that they will be sticking by their unvaccinated partner – and they have no intention of quitting the show. 
The star, who continued to train with their pro dancer upon discovering they've yet to be jabbed, will take to the dancefloor on Saturday night's show as planned.
Out of the dancers, Amy Dowden, Giovanni Pernice and two-time winner Oti Mabuse are known to have had the vaccine. Reps for Aljaž Skorjane, Johannes Radebe and Karen Hauer refused to comment on their vaccination status. The other dancers did not respond when contacted by MailOnline
BBC bosses are reportedly battling to save Strictly Come Dancing after celebrities were furious to learn three professional dancers have refused the Covid vaccine. There is no suggestion anyone pictured in this article is among the refuseniks 
Show insiders have told MailOnline every dance pairing will compete for the first time in front of the judges, despite the fact two others pros have also yet to be vaccinated.
It's been reported the three Strictly pros who have yet to be vaccinated are so opposed to the jab, they would rather quit than be forced to have it. 
And that's despite pleas from celebrity dancers, who previously encouraged them to have the vaccine after one unnamed pro dancer contracted Covid and had to isolate for ten days, while their partner received a negative test.
A source close to the celebrity that is sticking by their unvaccinated parter said: 'They've been training all week as planned with their pro partner.
'There was a frank discussion about the vaccine but the celebrity accepted the pro's stanceThe jab saga has been debated in WhatsApp group all week but the feeling is business as usual in regards to Saturday's show.
'They're all looking forward to it.'
Another source claimed one star – a household name – told friends: 'We should have been protected,' after learning their professional partner hasn't received the jab. 
They told The Sun that the celebrity was previously unaware their professional partner hadn't been jabbed, and was stunned by BBC bosses' failure to secure their safety despite stringent Covid measures.
They said: 'They just couldn't believe that their partner would not have had a jab.  They thought they'd be protected so to discover their partner hasn't even had a single jab is very worrying.
'The couple have already spent tens of hours practising together. Clearly, there is a lot of anger and a lot of questions to be asked.' 
Strictly bosses cannot force any of its dancers or celebrities to have the vaccine, as it's down to personal choice.
The Strictly couples have formed bubbles since their partnerships have been announced and will sit socially distanced from other couples in the audience during Saturday's first live show, when not competing.
Although the unnamed celebrity has taken an understanding view of the pro anti-vaxxers, former Strictly pro James Jordan believes non-jabbed dancers should leave the show.
He told The Sun said: 'If someone on this show gets this virus and their immune system is really low and they die, it could have been prevented.
'The BBC is publicly funded by taxpayers. There's over 44million people that are double vaccinated in this country so the BBC has a moral obligation to the country to say to these dancers, 'I'm really sorry, unless you're going to be double vaccinated you can't have your position on Strictly'.'
A Strictly spokeswoman said: 'We do not comment on speculation of somebody's COVID vaccination process.
'Strictly Come Dancing production has, and always will, continue to follow strict government guidelines to ensure the safety of all on the show.'
This year's Strictly has once again seen stars and their professional dancers required to adhere to strict Covid safety measures, including being tested multiple times a week, and forming bubbles to perform and train safely.
Saturday's launch show, which was recorded earlier this month, saw this year's celebrity contestants discover their professional partners, with the 15 couples set to perform in the first live show this weekend.  
STRICTLY COME DANCING 2021: WHO ARE THE COUPLES?
TOM FLETCHER & AMY DOWDEN
Celebrity's Age: 36
Profession: McFly musician
Tom says: 'I'm so pleased the news is out it's been so hard keeping it secret. Equal parts excited and terrified.'
Fun fact: Tom's McFly bandmate Harry Judd won Strictly Come Dancing in 2011. Tom's wife Giovanna Fletcher is the reigning champion of I'm A Celebrity… Get Me Out Of Here!
 Celebrity's Age: 48
Profession: Actor and comedian
Robert says: 'It's very exciting but with a slight undertone of quivering terror.'
Fun Fact: Robert squeezed into a shiny leotard to take the title of Let's Dance For Comic Relief in 2009, performing What A Feeling from '80s film Flashdance, beating the likes of Keith Lemon and Paddy McGuinness to the title. 
RHYS STEPHENSON & NANCY XU  
Celebrity's Age: 27
Profession: CBBC presenter  
Rhys says: 'I have dreamt about being on this show, and I know for a fact that it is going to exceed every expectation'
Fun fact: Rhys has been an actor since the age of ten, performing alongside Matt Smith and Hugh Bonneville. 
KATIE MCGLYNN & GORKA MARQUEZ
 Celebrity's Age: 28
Profession: Actress
Katie says: 'I'm really not a dancer, but I'm so excited to learn a new skill on this crazy journey and cannot wait to slip into some sequins along the way.'
Fun fact: Katie, who played Sinead Tinker in Corrie, won a NTA for Best Serial Drama Performance in 2020. 
TILLY RAMSAY & NIKITA KUZMIN
Celebrity's Age: 19
Profession: CBBC presenter
Tilly says: 'I'm going to put my heart and soul into this and can't wait to get my dancing shoes on!'
Fun fact: Tilly's father is celebrity chef Gordon Ramsay and the pair often star in dancing TikTok videos.
NINA WADIA & NEIL JONES  
Celebrity's Age: 52
Profession: Actress
Nina says: 'I think I should do this before I'm too old and can't walk anymore. I just want to grab life by the horns and just enjoy it.'
Fun fact: Nina is a JDRF Ambassador and was awarded an OBE in the 2021 New Year's Honours List. 
ADAM PEATY & KATYA JONES
Celebrity's Age: 26
Profession: Athlete 
Adam says: 'I'm really looking forward to doing something totally different and challenging myself away from the pool.'
Fun fact: Adam becoming the first British swimmer to defend an Olympic title at Tokyo 2020.
UGO MONYE & OTI MABUSE
Celebrity's Age: 38
Profession: Rugby player and sports pundit
Ugo says: 'What a dream come true! Strictly is the biggest entertainment show on TV and I can't wait to show everyone I've got more than just dad dancing moves.
Fun fact: Beginning his rugby career at Harlequins in 2002, Ugo went on to make 241 appearances for the club where he scored 89 tries, won a Premiership and made his England debut in 2008.
AJ ODUDU & KAI WIDDRINGTON
Celebrity's Age: 33
Profession: TV presenter
 AJ says: 'I think it's going to be really challenging. I can't wait for the sequins, the wigs, the glitz and the glamour.'
Fun Fact: Apocalypse Wow hosts AJ has featured on a whopping 14 TV shows this year, competing in the likes oF Cooking With The Stars and Celebrity Karaoke Club. She has appeared as a panelist on Strictly Come Dancing: It Takes Two in the past, too.
JOHN WHAITE & JOHANNES RADEBE
Celebrity's Age: 33
Profession: Great British Bake Off Winner and TV chef
 John says: 'I'm so grateful, excited, and nervous to be joining the Strictly 2021 family… I've been wearing sequins and jazzy attire since I was three years old and can't wait to hurl myself, full throttle, around the most glamorous dance floor on earth'
Fun Fact: The duo are the first ever all-male partnering – the first in 17 years of the show.
SARA DAVIES & ALJAZ SKORJANEC
Celebrity's Age: 37  
Profession:  Businesswoman
Sara says: 'I'm really nervous because so far the producers keep asking me if I can dance… Truth be told – I haven't got a clue! I've not danced since I did ballet lessons when I was little.'
Fun fact: Sara was the youngest ever dragon on BBC show Dragons' Den.
DAN WALKER & NADIYA BYCHKOVA
Celebrity's Age: 44 
Profession: Journalist
Dan says: 'I'm enjoying the experience when it starts of learning to dance. I'll be honest I'm not making room on any shelves in my house for the glitterball.'
Fun fact: Dan recently quit Football Focus after 12 years at the helm and has been covering Tokyo Olympics.
 GREG WISE & KAREN HAUER
Celebrity's Age: 55
Profession: Actor
Greg says: 'It's about being out there and exposing yourself as someone who can't dance, and learning.'
Fun fact: Greg is married to the actress Emma Thompson who he met while filming Sense and Sensibility.  
ROSE AYLING-ELLIS & GIOVANNI PERNICE
Celebrity's Age: 30
Profession: Actress
Rose says: 'I hope I will do the deaf community proud and break down more barriers. I am also very excited to learn an incredible new skill.'
 Fun fact: Rose will make history as Strictly's first deaf contestant. 
 JUDI LOVE & GRAZIANO DI PRIMA
Celebrity's Age: 41
Profession: Comedienne 
Judi says: 'I'm truly looking forward to pushing myself in something that I could have only dreamed of doing and now it's actually coming true!'
Fun fact: Judi began comedy when she performed a set in front of her class for a degree module.
Source: Read Full Article