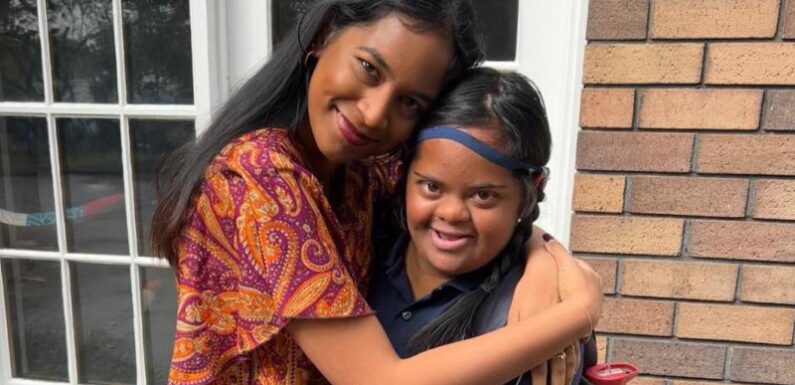 Save articles for later
Add articles to your saved list and come back to them any time.
The day I turned 14, two of my sister's friends from school were found dead.
A chilling silence followed in subsequent days, but slowly, information began to emerge. Over time, it became clear that their father had planned an elaborate system in which gas bottles had been connected to hosing, run through the ceiling and linked to fans around the house. According to the coroner, this had been a carefully planned murder and suicide, resulting in the deaths of both parents as well.
My sister, who is severely disabled, attends a special needs school. Both her friends, who died aged 10 and 11, had significant neurodiversities.
Satara Uthayakumaran and her sister Karuka, who has Down syndrome and is deaf.
It is impossible to explain the devastating and traumatic impact of this horrific act of violence in our community – one filled with those of very different abilities, cultural and social backgrounds. In that moment, we all felt the worst thing any carer is capable of feeling.
Every carer is familiar with the responsibility to make the world a better place for those we look after. As a young carer for my sister, who has Down syndrome and is deaf, I know this only too well. As a child growing up, the added responsibility of taking care of my sister was second nature. I was no longer just responsible for my own life, but for hers as well; a blessing but also a source of immense stress. As children, we are forced to mature much more quickly than those who do not have the added duty of taking care of another human being – to feed, bathe, clothe and teach them. I won't romanticise the experience; the hardships often felt by families such as ours are significant.
Australia has a long way to go in accommodating those with disabilities and their carers. The Royal Commission into Violence, Abuse, Neglect and Exploitation of People with Disability, launched in 2019, speaks to this grave reality. The final report of the commission is imminent, after being granted a 17-month extension from the initial due date in April 2022, so it could adequately deal with the estimated 8000 submissions.
For four years, families such as mine were moved and incredibly emotional as submissions swept in. For the first time, we felt heard. There was some paradoxical comfort to be drawn from the fact that we were not alone in the issues we faced.
The breadth of submissions reflected the role of intersectionality in our communities. Disability became explored in the context of other identities such as ethnicity, class and gender. A research report by the royal commission found that First Nations NDIS participants were 28 per cent less likely to receive care via the NDIS than their non-Indigenous counterparts and that many disability services could be described as "unsafe, traumatising and inequitable".
Separately, the exemption in the Disability Discrimination Act 1992 to certain provisions of the Migration Act was found to constitute disability discrimination in procedures relating to migration and asylum. Submissions also highlighted the importance of culturally appropriate and safe support, for example, to practically help people who have language barriers, in applying for the NDIS and other supports which require complex language and medical concepts.
Those sending submissions were actively encouraged to embrace diverse formats to accommodate those within the disabled community who were non-verbal; unable to deliver spoken or written testimonies, such as my sister. Our family met with representatives from the royal commission who encouraged us to use creative mediums such as art, music, films and much more to communicate the issues which were most important to us. This itself was a huge step forward for accessibility.
It is impossible to articulate how greatly the lives of those with disabilities and their carers depend, not only on the findings of this commission, but how the government and broader public choose to react to it.
For people with disabilities, it has the capacity to enormously impact their lives, and provide services and protection which give them greater dignity and autonomy. For carers, it affects us because it touches the lives of the people we love, who we grow up with, laugh with, cry with – the people whose deepest vulnerabilities we see and who, in turn, see our own.
After what happened to my sister's friends, it is my deepest wish that this report provides hope and relief the many families who depend on it – and if we're lucky, we will never see people lose hope again in such tragic circumstances.
This royal commission, for one of the first times in Australian history, gave us a voice to speak to the nation – a liberation from the silence of our roles and an acknowledgement of the work and dedication of our lives to those we love.
Now we wait for the rest of the country to respond.
Satara Uthayakumaran is a writer and student at the Australian National University.
If you or anyone you know needs support, call Lifeline on 131 114 or Beyond Blue on 1300 224 636.
Most Viewed in National
From our partners
Source: Read Full Article