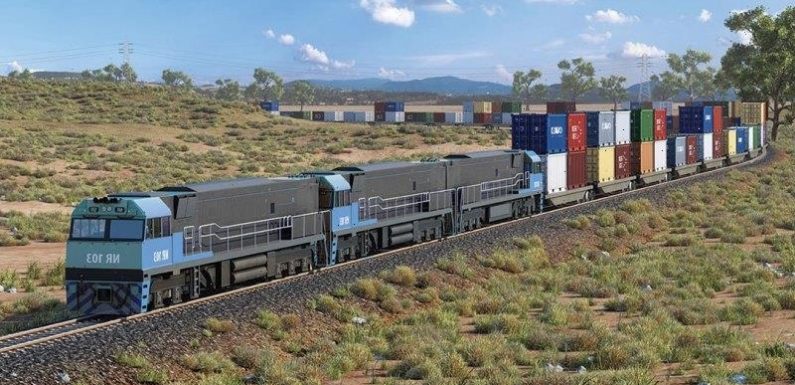 Anti-diesel truck lobby groups in Melbourne's inner-west warn the federal government's $2 billion investment in a freight rail terminal will do little to remove trucks from their pollution-choked streets.
The government has said it will help fund a new intermodal terminal in Melbourne in Tuesday's federal budget, with potential sites identified at Truganina in the city's west or Beveridge, about 40 kilometres north of Melbourne.
A Maribyrnong Truck Action Group protest in 2016.Credit:Paul Jeffers
The plan would involve building new warehouse and container park capacity and connecting this to a future Inland Rail line, allowing services of double-stacked, 1800-metre trains to travel between Melbourne and Brisbane by the mid-2020s.
The future 1700-kilometre line along Australia's east coast would bypass congested rail corridors in Sydney, cutting journey times from 32 to 24 hours and freight operator costs by an estimated 20 per cent. An average Inland Rail train service would probably carry the equivalent freight volume of 110 B-double trucks.
But Melbourne does not have a terminal able to accommodate double-stacked, 1800-metre trains.
The federal funding was welcomed by the operators of Port of Melbourne, the Australasian Railway Association and the Andrews government, which has been asked to match the federal government's $2 billion investment.
But Martin Wurt, the secretary of community group Maribyrnong Truck Action Group, which lobbies for the removal of trucks from Melbourne's inner-western roads, fears the project would do little to alleviate huge truck traffic and rising pollution.
The priority should be to rapidly improve freight rail access between the Port of Melbourne and Melbourne's west, rather than building an interstate rail service, he said.
"What we need is rail from the Port of Melbourne to intermodal hubs in Melbourne to deal with the Melbourne-based traffic. That's what we've been promised for decades," Mr Wurt said.
The state government has jointly funded a business case on the project that is finished but not public and is yet to be examined by the nation's lead infrastructure adviser, Infrastructure Australia.
The planned Inland Rail project aims to reduce interstate freight transport times and remove trucks from congested roads.
On Monday Transport Infrastructure Minister Jacinta Allan said the terminal should be built in Melbourne's west, with independent studies showing the Truganina site is close to about 50 per cent of existing interstate freight rail customers.
"The location of that terminal in the west is where it should be," she said.
Port of Melbourne chief executive Brendan Bourke said the project would put more freight on trains, but it needed to include rail access to Webb Dock, which is not currently linked to a rail line.
"Connection of Inland Rail to the Port of Melbourne, including a direct freight connection to Webb Dock, is essential to meeting the long-term demands of consumers and business," he said.
Patsy Toop, chair of the state government-appointed Inner West Air Quality Community Reference Group, said putting more freight on rail would probably have a "positive impact" but if Beveridge was the chosen site it would deliver no reprieve to residents of Melbourne's inner-west.
Matt Eryurek, general manager at SCT Logistics – a large operator of rail freight services and a 100-hectare intermodal hub in Altona – said Truganina was the best location for a freight terminal for Inland Rail services.
A rail link should be built between Truganina and Little River, 30 kilometres to the south-west, enabling trains to continue along an existing freight line to SCT's port shuttle hub in Altona, which connects the Port of Melbourne, Adelaide and Perth, he said.
Caroline Wilkie, chief executive of the Australasian Railway Association said: "The proposed federal funding represents a significant investment in Victoria's future by strengthening freight infrastructure and supply chains in the state."
A federal government spokesman said a new intermodal hub in Melbourne would "increase efficiency and capacity of the national and Victorian freight industry by overcoming the constraints of the Dynon precinct and Melbourne's broader freight network.
"The Australian and Victorian governments are continuing further planning, design development and delivery of a new Melbourne intermodal terminal at two potential sites."
Follow our budget coverage
Tune in on Tuesday from 6.30pm for our live coverage of the 2021 federal budget.
Latika Bourke will wrap up the latest news, analysis and reaction in our live blog. Watch the Treasurer's speech live just after 7.30pm.
Our expert team, including Shane Wright, David Crowe, Peter Hartcher, Ross Gittins, Rob Harris and Jessica Irvine, will explain what the budget means for you, the economy and business.
Tony Wright, Jennifer Duke, Anthony Galloway and Annika Smethurst will also offer expert reporting and analysis.
Plus: Don't miss our dedicated Please Explain podcast with national editor Tory Maguire on Wednesday.
Most Viewed in National
From our partners
Source: Read Full Article