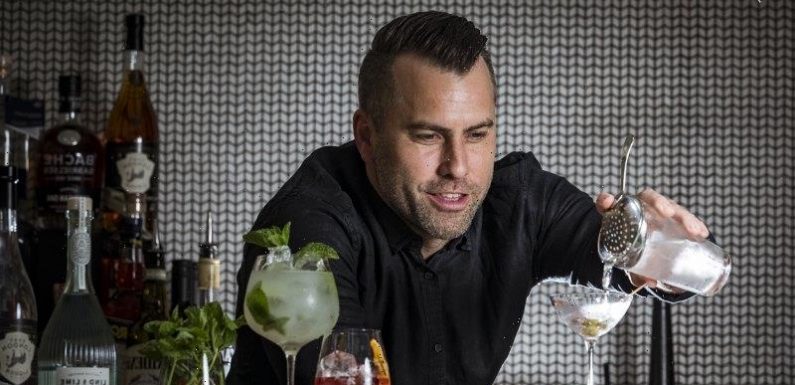 The time has come to bid farewell to 2021 and usher in a new year.
It's no surprise that the threat of coronavirus looms large over many New Year's Eve events in Victoria, but that won't stop people from celebrating in style, in a COVID-safe way.
Fine drinks, tasty food and good music will be available across the city. Credit:Chris Hopkins
There are plenty of organised events and parties around Melbourne that will prioritise COVID safety while celebrating the arrival of 2022. So, get your mask and dancing shoes ready, here is a quick guide to New Year's Eve in Melbourne.
The City of Melbourne has urged revellers to plan ahead and pre-book tickets to its New Year's Eve celebration zones.
With no rooftop fireworks in the city this year, the four zones (Flagstaff Gardens, Treasury Gardens, Alexandra Gardens and Docklands) will be the best places to see fireworks and enjoy a range of entertainment from DJs, musicians, street performers and more.
The city has also highlighted the "drone swarm" that will feature at the Docklands party.
Flagstaff Gardens, Treasury Gardens, Alexandra Gardens and Docklands will be the best places to see fireworks.Credit:Luis Enrique Ascui
Visit the city's website for further information or to snap up one of the few remaining tickets.
For those looking to ring in the new year with some tasty food and good tunes, Melbourne's New Year Street Feasts program offers an outdoor dining program from some of the city's best and favourite eateries.
Presented by the Melbourne Food and Wine Festival with support from the City of Melbourne and the state government, it will feature music curated by Deborah Conway, Mo'Ju, Sensible J and Memphis LK at six different venues – Flinders Lane, Little Bourke Street, Chinatown, Docklands, Little Collins Street and Russell Place.
Those keen to see the new year in by the water can hit up The Promenade at Melbourne's Docklands for the NYE h2oh! party. DJs and live acts will include D Jay George, James Werner, Nick van Wilder, Joey P, Claudia Allegro.
New Year's Eve will be the last chance to see the projections on the Old Treasury Building and Melbourne Town Hall. They will be switched off just after midnight. No tickets or bookings required.
Among the bars and restaurants hosting New Year's Eve parties is The Abbotsford Lot, which is hosting the Dusk NYE Open Air Festival in an off-beat shipping container described as an "oasis" in the heart of Victoria Street. It will feature soul, funk, jazz and disco music and a range of food from local vendors.
Grazeland in Spotswood will host a festival of food, music and roving entertainment across a variety of timeslots on New Year's Eve. Bookings are essential.
The 29th Apartment in St Kilda is hosting a $49 New Year's Eve party, with nibbles and two drinks included in the entry price.
For a family-friendly event, Japanese grill restaurant Robata on Exhibition Street is saying "sayonara" to 2021 with early sittings and DJ Kazuma Onishi in charge of the music from 7pm.
For those isolating at home or simply keen for a quieter night in, Channel 9's live coverage of New Year's Eve festivities will kick off at 11pm. There will be highlights from 2021, an official countdown and to top it all off a midnight drone and fireworks show.
What's on this New Year's Eve
Celebration zones at Alexandra Gardens, Docklands, Treasury Gardens and Flagstaff Gardens will host individual fireworks displays, DJs and bands. Pre-booked tickets and full vaccination status essential.
New Year's Street Feasts festival will invite restaurants to sell their specialties on seven laneways in the CBD. Pre-purchased tickets essential.
Fascinating answers to perplexing questions delivered to your inbox every week. Sign up to get our new Explainer newsletter here.
Most Viewed in National
From our partners
Source: Read Full Article