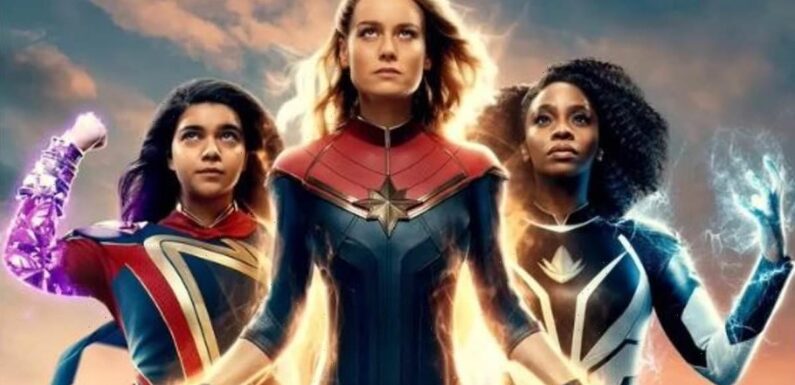 Brie Larson's The Marvels projected to have LOWEST opening weekend EVER for an MCU film (despite star's last-minute promotional push) with expected ticket sales between $47M to $52M
Despite being the number one spot at the box office, Brie Larson's new superhero flick The Marvels is projected to have lowest opening weekend ever for an MCU film.
Larson, 34, heavily promoted the latest Marvel film on The Tonight Show and spoke with co-star Samuel L Jackson, 74, via FaceTime at a theater in New York Friday, one day after the actors strike ended.
While many Marvel films have enjoyed openings in the hundreds of millions, The Marvels pulled in only $21.5 million dollars in ticket sales its first night in theaters. 
The movie is expected to clear between $47 million and $52 million for the three-day weekend, according to estimates.
Brie reprises her role as Captain Marvel/Carol Danvers for this latest project. 
Box office: The Marvels, starring Brie Larson, Teyonah Parris and Iman Vellani is expected to open number one at the box office
She's joined by Ms. Marvel star Iman Vellani, 21, and WandaVision's Teyonah Parris, 36.
The women come together to try to save the universe after Zawe Ashton's Dar-Benn gets hold of some of the quantum bands and uses their power to tear open a jump point in space.
Kamala Khan, played by Iman, also has her own quantum bands.
This results in entanglement among the group of heroes, casually referred to as The Marvels and with bad girl Dar-Benn, whose actions continue to put the universe in danger. 
In her appearance on The Tonight Show With Jimmy Fallon, Brie revealed she had 'to learn all new skill sets' for the role and revealed 'we go to planets that are pretty cool.' 
Other surprised include a guest appearance by Tessa Thompson as Valkyrie.  
The film was described as 'Funny, refreshingly brief, and elevated by the chemistry of its three leads is easy to enjoy in the moment despite its cluttered story and jumbled tonal shifts,' was the critic consensus on Rotten Tomatoes.
Reprise: Brie Larson, 34, reprises her role as Captain Marvel/Carol Danvers in the latest offering from the MCU. The film is expected to earn some $47-$52 million over the weekend, the lowest box office debut for any Marvel film 
Crossover: The Marvels includes crossover characters from the Marvel Television universe including Teyonah Parris from WandaVision. Iman Vellani from Ms. Marvel also appears in the superhero adventure
New villain: Zawe Ashton stars at the newest Marvel villain Dar-Benn
It received an overall critics rating of 65-percent.
Audiences gave a much warmer welcome with an 85-percent approval rate. 
The audience appears to be comprised of 65-percent male leaning viewers with majority of all moviegoers seeing the film being in the 25-34 year old age range.  
'The Marvels was a fun movie. I don't understand the "overhating"', wrote one fan on Brie's Instagram page.
Audience score: The Marvels received and 85% audience score on Rotten Tomatoes, while critics gave it only 65%. 'I watched the movie last night and it was great!!! love you brie, thank you for playing my favorite superhero. Higher, Further, Faster.❤️' commented one fan
'I watched the movie last night and it was great!!! love you brie, thank you for playing my favorite superhero. Higher, Further, Faster.❤️' commented another. 
Anthony D'Alessandro at Deadline blames the expected poor box office on 'Disney's overexposure of the Marvel Cinematic Universe brand on Disney+' and the crossover with Marvel streaming series makes it look more like a project that should be viewed at home rather than the theater. 
Sam Thielman of Slate has a different take on The Marvels.
He said the 'movie with two fantastic musical numbers, three compelling leads, at least four truly fun action sequences, as well a bunch of garbage-y CGI,' could actually benefit the Marvelverse if the studio would 'reconsider taking such a heavy hand,' over the franchise. 
Source: Read Full Article