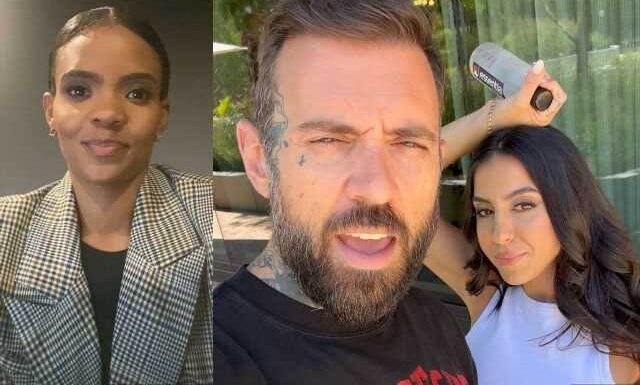 During an interview with Andrew Tate, the conservative political commentator shares her opinion on the 'No Jumper' podcast host allowing his wife to film a sex scene with Jason Luv.
AceShowbiz –Candace Owens has slammed Adam22 and Lena The Plug's relationship. The conservative political commentator got candid with her opinion on the "No Jumper" podcast host allowing his adult content creator wife to film a sex scene with Jason Luv.
The 34-year-old discussed Adam and Lena's relationship in an interview with Andrew Tate. In the clip that was published via YouTube on Friday, July 28, she could be heard telling Andrew, "I looked at that and I saw a slave relationship. I saw a master offering his slave to another person."
On the reason why, the TV presenter explained, "Because he was just so… 'Ah, I just love Andrew Tate, would you like to sleep with my wife? I would be okay with that.' " She went on to say, "That is horrific. That is not femininity, that is not masculinity."
Elsewhere in the chat, Candace stressed her point by stating that it has nothing to do with femininity. "Don't allow them to delude you into believing that this is femininity. It is not femininity, Lena, to have your husband offer your body to another man on camera. That's the poisoning," she said. "They teach them that this is sexual freedom, that this is sexual liberation."
In response to Candace's statement, Andrew gave his own two cents by saying, "Correct, I absolutely agree with you on that point. You're totally right there." He further elaborated, "And I think that's probably one of the most misogynistic things that have happened on the internet in recent times."
"But perhaps are on the right side of the political Spectrum, I don't know," the former athlete continued. "I don't know which side they're on, but if they're on the correct side you seem to get away with things."
Candace's statement about Adam and Lena's relationship came nearly two months after she took a jab at Khloe Kardashian over surrogacy. In June, she sarcastically tweeted, "I am grateful that @khloekardashian has shone a light on the unethical practice of surrogacy. Purchasing and taking a newborn from its mothers arms a mere seconds after birth is an unspeakable evil. Breeders do not even do it to animals."
"My heart breaks for women who- for money-submit their bodies to this cruel practice," she went on to reason in a follow-up tweet. "It is the highest paying form of prostitution and that there are wealthy women who subject poorer women to this cruelty out of vanity and not necessity makes me sick."
You can share this post!
Source: Read Full Article