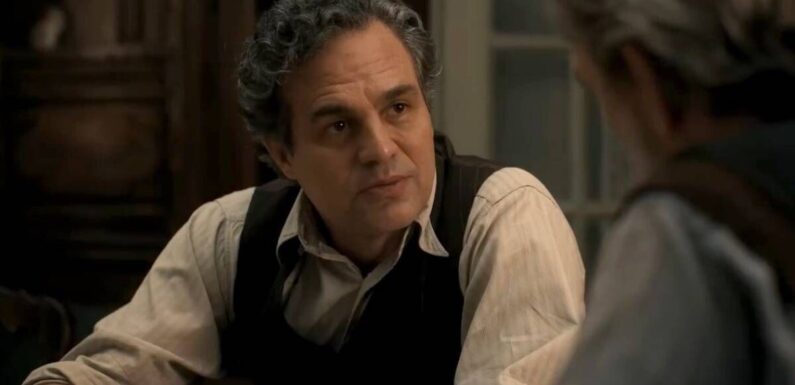 All the Light We Cannot See official trailer
All the Light We Cannot See's Mark Ruffalo believes he was given a "gift" when he became deaf in one knee following a life-saving operation.
The 13 Going on 30 actor stars in Netflix's historic drama that sees a father-and-daughter duo flee German-occupied Paris to a small coastal town with a priceless diamond in their possession.
They are being tirelessly hunted by the terminally ill Gestapo officer Reinhold Van Rumpel (played by Lars Eidinger) who believes the diamond will give him eternal life.
Ruffalo himself had a health scare way back in 2000 while working on a new movie, which he was first alerted to in a dream.
He dreamt he had a brain tumor and was able to go to the local hospital thanks to the doctor on set, despite being jokingly called "crazy".
Read more: Netflix cancels acclaimed drama as lead star rages 'I don't understand' in video
Speaking to the Acoustic Neuroma Association in 2013, Ruffalo said: "She [the doctor] came in and she was white as a sheet, and she said, 'you have a mass behind your left ear that's the size of a golf ball.
"We don't know what it is exactly, and you'll need an MRI.'
"And I thought, 'yep.' It's not a great time to say 'I knew it,' but…"
"It was so startling—the impression from the dream was that it had to be dealt with immediately. Dying was my biggest fear."
He was subsequently diagnosed with acoustic neuroma, a non-cancerous tumor which can develop in the main nerve between the inner ear and the brain.
Don't miss…
Harry and Meghan Netflix blow after 'absolutely tanking' in US[ROYAL]
Robbie Williams addresses plastic surgery plans as he opens up on 'manopause'[EXPLAINER]
Friends enters Netflix top 10 as fans re-watch show after Matthew Perry's death[REVEALED]
He was warned before surgery that he could lose his hearing which he was "praying" for God for instead of damaging his facial nerve.
Ruffalo did suffer from temporary paralysis in the face for a few months and recovered but is now permanently deaf in one ear.
Nevertheless, the Spotlight star sees his disability as a positive following his scary ordeal.
He told W Magazine in 2011: "I see it as kind of a gift in a weird way.
"Your priorities become very clear. My relationship to acting became very clear."
Advert-free experience without interruptions.
Rocket-fast speedy loading pages.
Exclusive & Unlimited access to all our content.
Ruffalo continued: "At that point I thought maybe I wasn't enjoying it the way I thought I would, and so having that kind of taken away from me for a little while made me understand how much I actually loved it and cared about it."
The 55-year-old married his wife Sunrise Coigney the same year that he was diagnosed and who he shares three children with.
He stars in All the Light We Cannot See alongside newcomer Aria Mia Loberti, Hugh Laurie and Louis Hofmann.
All the Light We Cannot See is available to watch on Netflix.
Source: Read Full Article