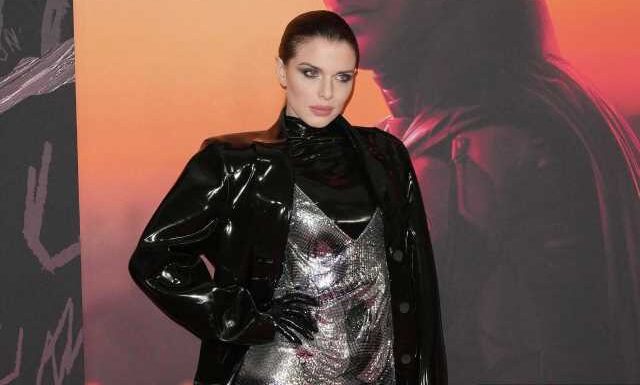 The 'Uncut Gems' actress, who is known for her bold look, shows off her edgy style as she treats her Instagram followers to a new picture of her sporting another wild look.
AceShowbiz –Julia Fox is ready for the summer. The 33-year-old star "Uncut Gems" actress showed off her edgy style as she treated her Instagram followers to a new picture of her sporting another wild look.
In the picture, the star could be seen enjoying a beach day. For the summer outing, Julia donned a metallic pink bikini from Dilara Findikogly. She paired the look with customizable strings and chains draping under the bustline and side-tie Mata Hari bottom that also included chain trim along the top.
As for her makeup, the model brought back her platinum eyebrow look. She also sported her newly red hair long and loose, adding a coordinating berry lipstick.
Julia is no stranger to wearing a bold look. Last month, she turned heads when she arrived in a chest-baring dress at the Toronto premiere of "Something You Said Last Night".
The mom of one set people's pulse racing as she donned a black, cut-out dress around her chest. She had crucifix-adorned nipple tassels covering her chest, while flaunting her midriff through a sheer, nude fabric.
That aside, Julia previously opened up about her brief romance with Kanye West. In a March episode of "Forbidden Fruits with Julia Fox and Niki Takesh" podcast, she reflected on their relationships with the Chicago rapper as they called it their "Cinderella moments."
"I have a theory that he has always been the same, kind of, and it's getting more extreme," the star said. "I feel like he has always just had really lofting dreams and always kind of pushing the envelope as much as he can, pushing the boundaries-like if you tell the man no, he is going to find a way to get yes."
You can share this post!
Source: Read Full Article