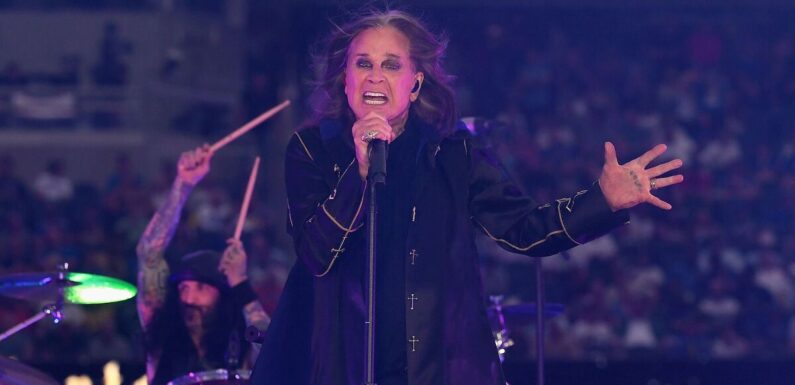 Sharon Osbourne says Ozzy the Bull is 'breathtaking'
Ozzy Osbourne had to take an extreme amount of pills a day following his spinal injury that could've left him paraplegic.
The rock star updated fans on his health issues during the first episode of his family's podcast, The Osbournes, on Tuesday.
First, he revealed that he doesn't even "think about" his Parkinson's Disease because it's mild. 
If he doesn't take his medication, he trembles a "little bit" in the morning. 
His son Jack Osbourne asked if his spinal injury was more of a hinderence than the Parkinson's, to which the Iron Man singer said yes.
Ozzy's wife Sharon Osbourne added: "It's nothing related to the Parkinson's what Ozzy has."
In 2003, Ozzy almost died in ATV accident, undergoing emergency surgery to address "a broken collarbone, eight fractured ribs that were pinching crucial blood vessels and a damaged vertebrae in his neck."
READ MORE Sharon Osbourne tells all when it comes to her 40-year-long marriage to Ozzy
https://www.youtube.com/embed/nDEAaUwjqsc
On the podcast, Ozzy explained his 2019 fall, which aggravated his 16-year-old injuries and has had three surgeries to fix things ever since. 
He said he fell getting into bed at night and didn't put his hands out to catch his fall.
When he arrived at the hospital, Cedars Sinai, it was "pandemonium."
Sharon said she went "full-Karen" on the staff for not seeing Ozzy as soon as they arrived. 
Eventually, Ozzy got an X-Ray but all it showed was some swelling, so the staff sent him home.
The following day, Ozzy couldn't lift his arm, so Sharon called Ozzy's Parkinson's doctor to see if he recommended anyone.
Ozzy's Parkinson's doctor called someone from the spinal ward, who Sharon said came in "dressed like a model for Prada, stinking of cologne, big handkerchief that matches the tie… I was like, 'Oh, he must be a brilliant surgeon.'" 
The doctor put Ozzy in the ICU and said he couldn't operate because there was too much swelling, but that the singer needed the surgery because if he fell again he'd become a paraplegic.
Don't miss…
Ozzy Osbourne uses cane for outing with wife Sharon after promising health updat
Ozzy Osbourne's family share amazing health update despite worrying setbacks
Sharon Osbourne coordinates with rarely-seen lookalike daughter Aimee
We use your sign-up to provide content in ways you've consented to and to improve our understanding of you. This may include adverts from us and 3rd parties based on our understanding. You can unsubscribe at any time. More info
Ozzy remained in the ICU for a week so he didn't get sick as the swelling went down before the surgery.
Sharon added that she didn't think about getting a second opinion because she was so "in shock what could happen to him. I just listened to everything this man said. Everything."
Jack added that his father was dancing and waving his hands headbanging to music before going into surgery, but now he can't do any of that post-surgery.
Sharon has questioned herself many times whether she should sue the doctor, but then she asks herself if she wants to spend three years in court. 
Jack added that Ozzy's Parkinson's is always going to be the "get-out," meaning doctors will always blame the icon's health issues on the disease. 
Sharon said post-surgery was a "nightmare," with Ozzy in the hospital for three months "getting worse and worse, he's got terrible atrophy."
The TV personality recalled Ozzy was on "every type of medication you could think of, he was on like 46 pills a day."
Thankfully, they cut down everything with the medication but it's been a nightmare ever since.
Ozzy has had two more surgeries to undo the damage that the first surgery inflicted. 
Every doctor that the rock legend has seen over the years has said that the first doctor did things to Ozzy that shouldn't have done, including putting in two plates with screws, which have come undone, disintegrating the bones around them, over time.
Ozzy added: "I don't know what the fuck [the doctors are] doing. All I know is right now I'm in a lot of pain, I'm in a lot of discomfort."
The singer has been forced to cancel tours because of his health issues, but hopefully his next surgery will make things better.
Source: Read Full Article