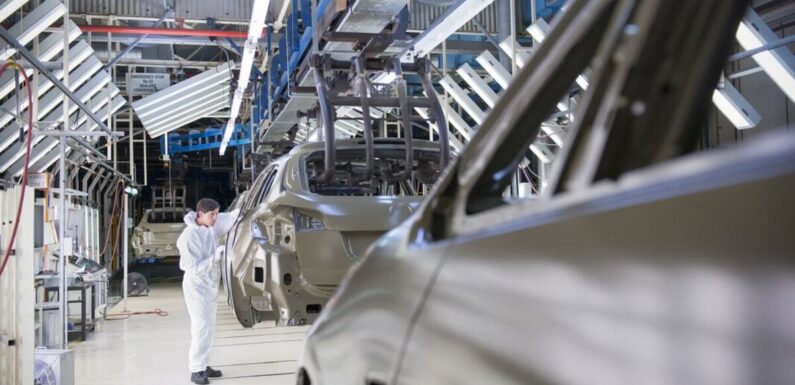 Coventry University's Institute for Advanced Manufacturing and Engineering (AME) – located in the once beating heart of UK car manufacturing – combines classroom learning with shop floor experience, creating a talented army of industry-ready engineers and innovators.
It has already helped generate more than £500m of economic benefits for the UK with more than £110m of research & development and commercial projects completed for giants like Aston Martin, Ford & Lotus.
Now, as Britain becomes world-beating in clean, sustainable and digital tech, the unique academy is ramping up in size with a £6m investment to offer 2,000 extra square metres of space for state-of-the-art laser welders, laboratories, and a robotic and testing area.
It marks a paradigm shift from the days of Coventry car makers like Jaguar, Armstrong Siddeley, Alvis, Hillman, Chrysler, Triumph, Singer, Humber, Lanchester and Rover to 21st century precision tech in which Britain is now leading the way.
AME director Marcos Kauffman said: "The expansion is more than just physical growth – it's testament to our unwavering commitment to bridging the skills and research and development gap between academia and industry. This expansion is a beacon of our dedication to nurturing industry-ready talent while also fostering pioneering research that helps solve everyday issues."
"Together, we will support the UK's collective journey into a clean, sustainable and digital world."
READ MORE: Good Morning Britain reporter's broadcast interrupted by anti-Brexit protesters
Coventry was also once home to some of the largest machine tool companies in the UK with companies like Wickmans, Webster and Bennett, Matrix Churchill, Alfred Herbert, helping create the largest concentration of machine tool manufacturers in Europe.
AME has now positioned itself at the forefront of the UK's journey towards net zero, helping ideas become reality, and where the future of sustainable mobility is redefined.
Facilities include machines maximising the use of artificial intelligence and virtual reality, and metrology, lasers and chemistry laboratories.
AME has been instrumental in spearheading innovative projects that have enhanced precision and efficiency through cutting-edge manufacturing.
The reservoir of talent behind the facility – and those who graduate – has helped craft lightweight, eco-friendly products including high-volume fuel rails that are now exported from Coventry to China.
It is also committed to advancing the UK's growing reputation in manufacturing digital systems and laser processing in the burgeoning electric vehicle battery manufacturing sector.
Professor John Latham, Coventry University Vice-Chancellor, said: "We're setting the stage for the next generation of engineers, innovators, and clean technologies."
Don't miss…
Kemi Badenoch signs major new trade pact with Florida in latest Brexit victory[POLITICS ]
Doom-laden claims about Brexit were all wrong, but don't expect an apology[COMMENT ]
David Cameron's explosive return to politics after Brexit and boredom[POLITICS ]
It comes one month after the Daily Express revealed Britain had been handed another Brexit boost after Swiss manufacturing giant Bruderer – one of the world's leading stamp press machinery firms – pledged its long-term future here.
It is building a new 48,000sq ft UK headquarters in Telford, Shropshire, home of the Industrial Revolution, and from where Britain gained its reputation as a manufacturing pioneer.
Chairman Andreas Fischer said: "Shropshire is seen across the world as the birthplace of the Industrial Revolution and, today in 2023, still offers proximity to a lot of existing and new customers.
"I believe this move gives us the foundations to grow and plan for the next 55 years in the UK."
Support fearless journalism
Read The Daily Express online, advert free
Get super-fast page loading
Adrian Haller, managing director of Bruderer UK, said: "There's a real resurgence taking place and we need to talk about it more. Orders are up, investment is up, and industry is desperately crying out for more workers. UK industry is bouncing back from the shackles of the pandemic. And all of this is being achieved against a backdrop of rising energy prices and inflation."
Source: Read Full Article