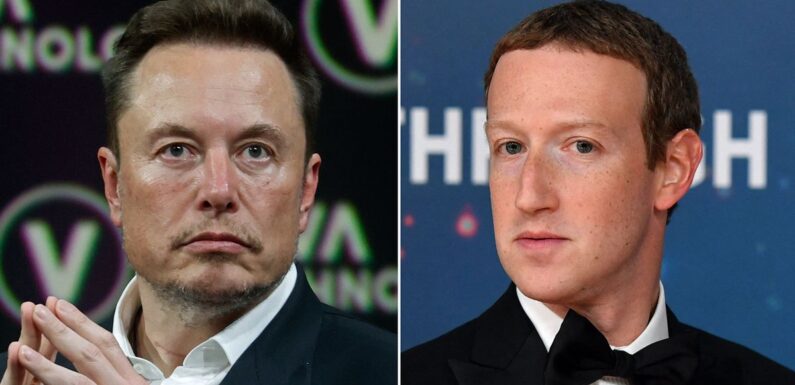 Elon Musk has called Mark Zuckerberg "a cuck" as the beef between the two tech moguls takes a strange turn.
Last month Twitter boss Musk proposed a cage fight with Meta CEO Zuckerberg. Seemingly keen, Zuckerberg responded by asking Musk to "send me the location".
Last Thursday (July 6) Zuckerberg's company launched Threads, a new social media app that looks set to rival Twitter. Musk slammed the so-called Twitter-killer as a "copy-cat" and even threatened to sue Meta as a result.
READ MORE: Bloke who tracked Elon Musk's jet continues operation on Mark Zuckerberg's Twitter rival
Yesterday (Sunday, July 9) Musk took another swipe at Zuckerberg.
In response to a screenshot that showed Zuckerberg laughing at burger chain Wendy's telling him to visit space to "really make" Musk "mad", Musk tweeted: "Zuck is a cuck."
Cuck is short for cuckold, referring to anyone who enjoys allowing their partner to engage in sexual relations with other people.
Musk followed up on the tweet by calling for another contest between the two men, of a very different nature to the cage fight.
"I propose a literal d**k measuring contest," he said. Zuckerberg is yet to respond to Musk's manhood measuring call out.
Following its launch last week, Threads saw 30million people join the social media app within 24 hours.
A cease-and-desist letter was released in response, in which Twitter lawyer Alex Spiro wrote: "Twitter has serious concerns that Meta Platforms has engaged in systematic, wilful, and unlawful misappropriation of Twitter's trade secrets and other intellectual property.
"Twitter intends to strictly enforce its intellectual property rights, and demands that Meta take immediate steps to stop using any Twitter trade secrets or other highly confidential information."
Musk appeared to confirm the pending legal action by tweeting: "Competition is fine, cheating is not."
Commenting on his new rival over the weekend, he said: "Threads is just Instagram minus pics, which makes no sense, given that thirst pics are the main reason people use that app. How many times have you read comments on Insta pics & wished there were more? Personally, never."
For the latest stories from across the globe from the Daily Star, sign up for our newsletter by clicking here – and check out the new WTF Wednesdays newsletter for everything brilliantly bizarre!
Source: Read Full Article