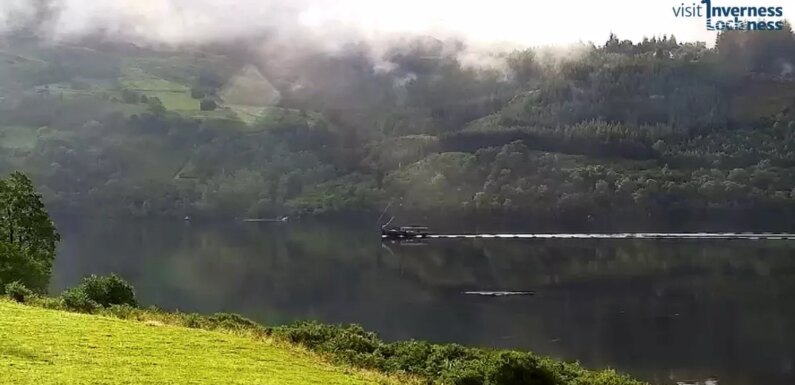 Bookmark
Never miss any of the fun stuff. Get the biggest stories and wackiest takes from the Daily Star, including our special WTF Wednesday email
Thank you for subscribing!
Never miss any of the fun stuff. Get the biggest stories and wackiest takes from the Daily Star, including our special WTF Wednesday email
We have more newsletters
An eagle-eyed Loch Ness Monster hunter claims to have spotted the mythical Scottish beast shortly after another sleuth spied "three odd shapes" in the water.
Fiona Wade reckons she caught a glimpse of Nessie at 10.45am on August 31, with the incident – which lasted between 30 and 40 seconds – now recorded in the official Loch Ness Monster Sightings Register.
Branding what she saw "like nothing I have seen before", Ms Wade said: "I can only describe it as Nessie as I can't think of any logical thing it could have been."
READ MORE: Huge sinkhole size of a car appears on UK street and nearly swallows a post box
And it's not just Ms Wade who believes she's spotted the Loch Ness Monster recently – just days prior, civil servant Alastair Gray said he saw "three odd and seemingly connected shapes" near Invermoriston on the loch's southwest side.
Wade said she didn't know about Mr Gray's brush with the beast and said she likely had her own alleged close encounter "in a very similar location".
"It initially looked like a periscope but then two curved areas followed," she recalled of her sighting.
"It was moving and about halfway out in the Loch looking roughly over to mid-way between Foyers and Whitebridge.
Stinging red fire ants dubbed 'world's most invasive species' set to invade Britain
"I have seen deer crossing before but this was like nothing I have seen before," she added. "It was large enough to catch my eye and it appeared to leave a slight wake behind it."
The Nessie sightings follow a series of exciting developments in the centuries-old hunt for the elusive creature.
Last month the largest hunt for the monster in more than 50 years took place, coordinated by Loch Ness Exploration and the Loch Ness Centre in Drumnadrochit.
Around 200 people descended upon the Highland lake, with volunteers even declaring they'd heard "four distinctive noises" in the water and sparking hope Nessie could be found once and for all – only to discover their recording equipment hadn't been plugged in.
Other Nessie believers have had more luck recording their proof, with one photographer snapping the "most exciting" picture of the monster yet.
Chie Kelly captured the snap during a 2018 holiday but was too scared to share the image until after the recent search.
Kelly, 51, took a picture of a large eel-like creature that could be seen spinning slowly before diving back below the surface of the water.
"I have always believed there was something in Loch Ness. There is something unusual there, but I don't know what it is," Kelly said.
"What I saw looked like a serpent. It was definitely a creature and it was moving."
Nessie hunter Steve Feltham said of Kelly's picture: "These are the most exciting surface pictures [of Nessie] I have seen.
"They are exactly the type of pictures I have been wanting to take for three decades. It is rare to see something so clear on the surface."
Keep up to date with all the latest news stories by signing up for one of Daily Star's free newsletters here.
Loch Ness Monster
Scotland
Source: Read Full Article