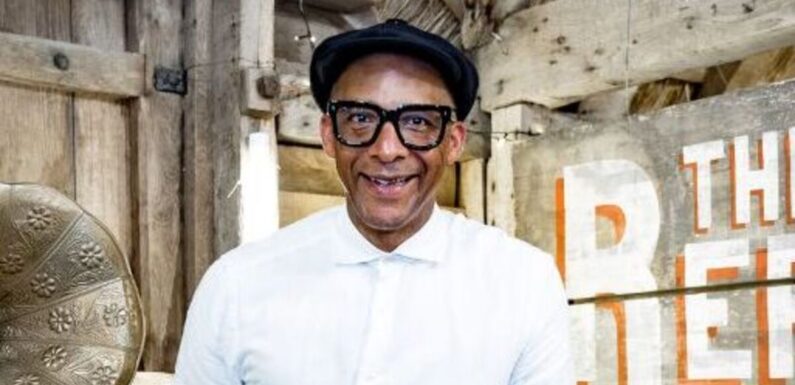 Lorraine: Jay Blades makes a 'bold claim' about Repair Shop
Jay Blades has shared that he feels "really guilty" after confessing to owning more than 20 pairs of shoes.
The BBC host was answering a series of questions on the official Instagram story of the show The Repair Shop, and one question revolved around his obsession with trainers.
When asked how many pairs he owns, he sighed and said: "Wow. I get asked this question a lot. Um, quite a few!
"The number the last time I counted was about 25 and I feel really guilty for saying that.
"But, what I tend to do is when I buy a pair of trainers I really like, I'll buy two or three of them."
READ MORE: BBC soap Doctors axed after 23 years due to 'failing to deliver' on ratings
He then added that he would always give away something he hasn't worn in a while whenever he buys something new.
Jay also revealed during the Q&A that he would not like to have Will Kirk's skills in a cheeky swipe.
Another question he was asked was: "If you could take on another restoration skill, what skill would you pick?"
Jay replied: "If I could take on another person's skills – wow. Now that is really, really interesting.
"There's so many to choose from. I love what Dom does, I love what Lucia does – Susie, Kirsten, Steve!
Don't miss…
Big Brother viewers issue same complaint as housemates face eviction[WATCH]
Coronation Street fans 'work out' Peter Barlow 'spirals' after unexpected exit[LATEST]
Ant and Dec 'planning' prime-time TV return after Saturday Night Takeaway exit[LATEST]
"Will?" he then ponders and shakes his head, before adding: "No, I am only joking. I love what he does as well."
He continued: "I'll tell you whose skill I'd like to have – Uncle Pete. He does all the musical stuff and he does so much history. And then there's also Sarah with the tapestry and the embroidery."
The Repair Shop first landed in 2017 and on average attracts around seven million viewers per episode.
In May 2022, Jay was awarded an MBE for his services to craftmanship.
The Repair Shop airs on BBC One at 8pm on Wednesdays.
We use your sign-up to provide content in ways you've consented to and to improve our understanding of you. This may include adverts from us and 3rd parties based on our understanding. You can unsubscribe at any time. More info
Source: Read Full Article