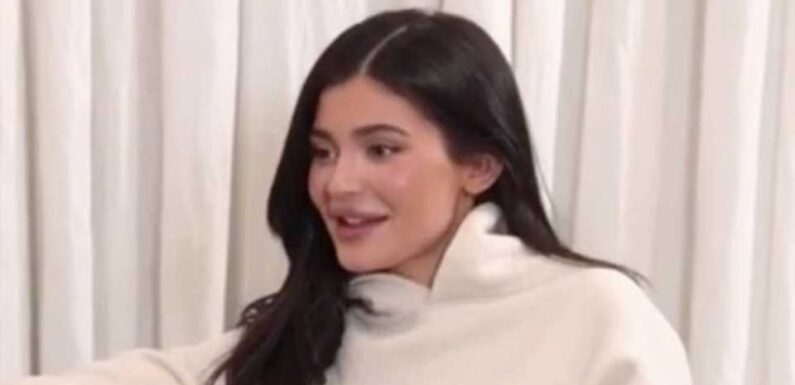 KYLIE Jenner has finally admitted to going under the knife for a boob job, but the reality star claims she regrets the decision.
Fans have long speculated that the Hulu personality has had plastic surgery, though she's only ever admitted to getting fillers.
During Thursday's episode of The Kardashians, Kylie, 25, opened up about getting plastic surgery while sitting at home with her BFF Anastasia Karanikolaou, better known as Stassi.
She confessed: "You know I got my breasts done before Stormi."
The Kylie Cosmetics mogul went on to reveal that she got her boob job a few months prior to getting pregnant with her daughter "not thinking I would, like, have a child when I was 20."
She expressed regret over the decision, saying: "I had beautiful breasts, like natural t*ts. Sat perfectly – just gorgeous. Like, perfect size, perfect everything. And I just wish obviously I never got them done to begin with."
Kylie went on to say: "I would recommend anyone who is thinking about it to wait until after children. Obviously, I have a daughter, too, I would be heartbroken if she wanted to get her body done at 19."
The TV personality previously opened up about her insecurities and procedures she's gotten during another episode of The Kardashians.
She and her sisters Kourtney and Khloe Kardashian talked about insecurities and the example they're setting for their own children and the people who watch them.
SECRET SURGERIES
Kardashian fans have been buzzing about whether or not Kylie has gone under the knife for a while.
Most read in Celebrity
Last picture of Sinéad O'Connor shows star beaming as she accepts award
Sinéad O'Connor's tragic final post revealed after singer dies aged 56
Legendary singer Sinéad O'Connor dies aged 56
Mum collapsed in street screaming after finding son, 5, & ex dead at home
Recently, internet sleuths noticed an odd detail in recent Instagram photos that suggested she may have made changes to her face.
Kylie shared a close-up photo of herself on social media that got fans talking.
She posted a selfie on the Kylie Cosmetics' Instagram account wearing light makeup while pouting into the lens. 
In the caption, Kylie shared her favorite products including her glow balm and kylash volume mascara.
However, fans spotted a telling detail in the pic that had them wondering if she got a secret surgery. 
"Def got secret nose job it's tiny," one fan commented.
Despite being open about getting fillers in her lips and initially claiming that she had no other work done, fans still think she secretly got more plastic surgery.
The mom of two recently shared a TikTok video that showed her applying mascara.
Fans noticed a subtle change to her eyes, suggesting she underwent a cosmetic procedure to make them "bulge out."
Grabs from the video were posted on Reddit, where online sleuths weighed in.
Many speculated that she went under the knife, throwing out theories about what procedure she might have gotten.
One user wrote confidently: "She had upper and lower blepharoplasty to remove all fat from around the eye, making the area all smooth and tight, and upper and lower eyelid skin excised to make her eyes wider vertically, showing more white."
They went on to suggest: "She has had a canthoplexy where the sides of the eye are cut and extended to make the eye wider horizontally, then tilted up to give a 'cat-like' look. Then I believe she has had a cheek lift, Ponytail lift, or mid-face lift that has stretched everything even tighter and wider."
Another fan speculated that Kylie underwent a facelift, writing: "Imagine getting a facelift in your early 20s."
KYLIE'S STRUGGLES
During a previous episode of The Kardashians, Kylie blamed her sisters for first making her insecure about her appearance.
She was shown putting makeup on the Lemme founder while the trio chatted about their various struggles. 
Khloe claimed "society" fueled her body insecurities, along with her mother Kris Jenner's comments about her nose.
At that point, Kylie chimed in, asking: "Isn't is interesting how you don't realize how you guys always talked about my ears?"
The Good American co-owner replied: "I talked about your ears because I loved them."
Kylie quipped back: "But I didn't receive it like that."
She revealed that her siblings would pull on her ears and compare her to Dopey, one of the Seven Dwarves, adding, "It f**ked me up."
Read More on The Sun
British Airways staff forced to serve KFC when they FORGOT inflight food
I'm the catfish queen – trolls say my transformation should be illegal
The star went on to explain just how bad the insecurity got, saying: "For like five years I never wore an updo and then I had Stormi and she has my ears and it made me realize how much I love them.
"'Cause I'm like, 'Wow if I'm insecure about my ears and I just, like, think my daughter is the most beautiful thing ever.' Now I wear and updo every carpet."

Source: Read Full Article