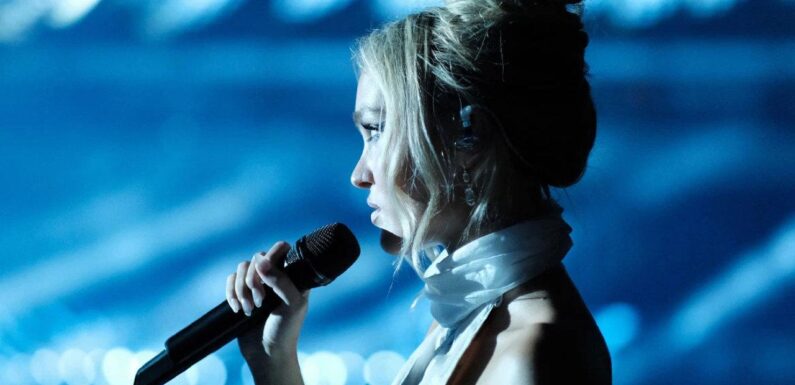 The 24-year-old actress daughter of Johnny Depp, who plays main character Jocelyn on the controversial HBO series, shares a carousel of behind-the-scenes images taken during its filming.
AceShowbiz –Lily-Rose Depp says shooting "The Idol" was the "wildest" journey of her life. The 24-year-old actress daughter of Johnny Depp has sparked controversy with her sex scenes in the HBO shocker, which finished on Sunday, July 2, but has continued to defend the show after it wrapped.
She said in a message on Instagram alongside a carousel of behind-the-scenes images taken during its filming, one of which showed her on her knees in a red outfit, "That's a wrap on season 1 of @theidol. Thank you all for watching, listening, laughing and crying with us. Thank you to everyone-cast, crew, and everyone in between-who poured their hearts into making this show."
Lily also thanking co-creators Sam Levinson and Abel "The Weeknd" Tesfaye, 33, for givIng her "the wildest, most beautiful journey of my life." She said, "And my 'Idol' family… I love you guys till the end of time. 'Idol' forever."
Lily-Rose, who played a tormented pop superstar on the show who falls under the influence of cult-like nightclub boss Tedros, played by Abel, signed off her message using the name of character, adding, "xoxo Jocelyn". "The Idol" appeared to come an early end when it wrapped after its fifth episode on Sunday, one episode short of what had initially been reported to be a six-episode first season.
Its controversies included a joke made about convicted sex predator Jeffrey Epstein. Episode 3, titled "Double Fantasy", featured Eli Roth's character Andrew Finkelstein saying Lily's pop star character Jocelyn was giving him irritable bowel syndrome before he added, "I'm f****** s******* more blood than a kid at Epstein's island."
The gag was a reference to billionaire paedophile Epstein's 75-acre paradise island home of Little Saint James in the Virgin Islands which was dubbed "paedophile island" due to his alleged trafficking to and abuse of girls at the complex, before he was found dead from an apparent suicide aged 66 in 2019 in his New York jail cell. The show was also accused of making fun of intimacy coordinators after one gets locked in a bathroom during a scene in which Jocelyn proudly bared her nipples at an album cover shoot.
Lily-Rose has constantly defended its sex scenes, saying they are "so important" to the story. Asked if she was hesitant about the scenes, she told Britain's HELLO! magazine, "Honestly, no, because those scenes are so important to the character and the story. I was really blessed to be surrounded by good people all the time. I really did feel as though they were listening to me and that they valued my opinions."
You can share this post!
Source: Read Full Article