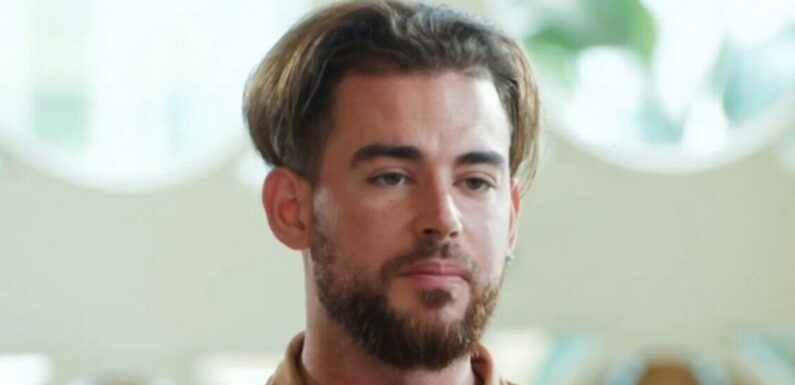 Married at First Sight UK cast members turn on Jordan in explosive scenes set to air tonight as the boys and girls split up to discuss the latest drama within the group.
During Wednesday's (October 25) episode of the E4 reality show, the newlyweds head out to the countryside for a well-deserved retreat. It is a time for the group to bond and relax but what's a couples retreat without a bit of drama?
Earlier this week, fans watched Ella, JJ and Bianca leave the experiment after their relationships broke down. Ella's husband Nathanial quit the show after learning that his wife had been texting JJ behind his back. The affair bombshell was brought up an explosive dinner party leaving his wife.Bianca heartbroken.
READ MORE: Want more showbiz? Daily Star has just the thing for you!
READ MORE: Want more TV? Daily Star has just the thing for you!
Ella attended the commitment ceremony on her own where she told the experts that she's quitting the process and that her and JJ had plans to get to know each other away from the experiment. The fallout of the revelation is the topic of the boys' conversation at the retreat.
In an exclusive clip from scenes set to air this evening, Luke says to Jordan: "It just feels like since you got here, every single argument that has happened whether your involved in it or not, you get involved. Some of it is none of your f**king business, do you know what I mean?" Jordan hits back: "Which? Some examples?"
Georges adds: "The Nathanial one, you weren't involved. We get it was a group conversation but you weren't involved. You added poison." Jordan responds: "I didn't add poison, I may opinion, my opinion is not poison." Georges says: "It can be."
Luke continues: "So this is why I actually got p****d off. You didn't know all the facts, I was trying to tell you the facts but you was cutting me off and cutting me off, saying what your opinion was but I was just trying to say I know the facts behind it but you was like 'no, no, no' so I said 'you must be f**king stupid'."
Jordan says: "Again, I think it's just the fact that we were having the conversation about the JJ and Bianca situation and I had facts as well and my opinion is what JJ did was wrong by just not telling Bianca straight away. I didn't have the opportunity to say, it didn't give her the opportunity to hear it from anyone else other than JJ. That's his wife and thats the right thing to do. That is my opinion."
Have you joined Threads? Follow Daily Star to keep up to date on all things showbiz here
It has been confirmed that familiar faces are set to make an explosive return tonight, with reports suggesting that JJ and Ella have been allowed to re-enter the experiment as a couple. A source told Daily Star "The arrival of the golden envelope puts some relationships in the pressure cooker and a clash of opinions causes tension between Jordan and Luke. Also the unexpected arrival of some familiar faces sends shockwaves through the group, with some particularly unimpressed by their comeback."
Married at First Sight UK airs Monday to Thursday on E4 at 9pm
For the latest breaking news and stories from across the globe from the Daily Star, sign up for our newsletter by clicking here
Source: Read Full Article