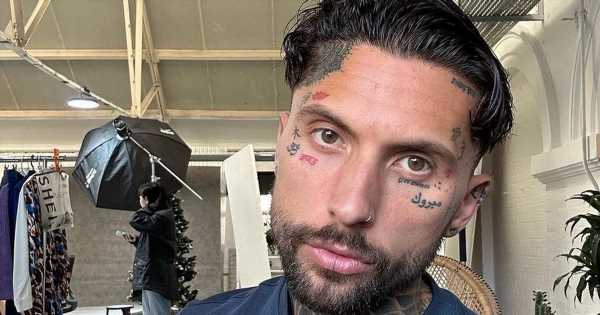 Clearly no stranger to the dating game, Brad Skelly, who is currently searching for love on Married at First Sight, previously appeared on Celebs Go Dating in 2016. During his stint on the show, he dated Geordie Shore star Charlotte Crosby.
If you look back at footage from that time, you might not immediately spot the star, as he looks markedly different from his current bad boy image on Married at First Sight.
When he appeared on Celebs Go Dating at the age of 20, Brad looked almost unrecognisable without his current face tattoos and pearly white teeth.
Although it's been some time, some viewers may recall his amusing date with Charlotte Crosby. The couple went for dinner in Newcastle and took on a spicy "hot sauce roulette" challenge.
Despite the fiery ordeal, Charlotte appeared to enjoy Brad's company, even remarking that she was having such a good time that she didn't feel the need for alcohol.
The chemistry between the two was palpable as they chatted and dined, with Brad even complimenting the gravy as one of the best he'd ever had.
Charlotte playfully quipped: "If he likes my gravy, who knows what else he'll like about us?"
Both struggled to maintain their composure while consuming the fiery sauce. Brad dropped a few F-bombs and momentarily lost his cool, but Charlotte one-upped him by spitting her milk all over him.
Despite these hilarious moments, the pair continued to date throughout the series. However, their love story wasn't destined to last, eventually leading Brad back to TV for another shot at finding love.
Now Brad is happily married toShona Manderson, and their relationship has become a favourite among viewers of Married at First Sight. Their romantic wedding and honeymoon were heartwarming moments on the show, and the couple have shown they aren't shy about PDA.
Brad has even confessed that he's falling in love with Shona, exchanging "I love you"s in front of the other couples as they decide to stay in the experiment.
However, some viewers found their rapid progression questionable, with one commenting on social media that they couldn't keep a straight face when watching Brad and Shona.
There were also concerns that the honeymoon period might not last, with one viewer commenting: "Interested to see what happens with Shona and Brad after their first fight."
Brad has also hinted at things not being plain-sailing for him and Shona on the E4 show. Speaking ahead of the series launch, he shared how the show "tests you in so many different ways".
The groom said: "I don't regret anything because I think you acted in a way at that time. But it definitely tests you in so many different ways. It pushes your buttons and sometimes it can overwhelm you and you can feel stressed."
Source: Read Full Article