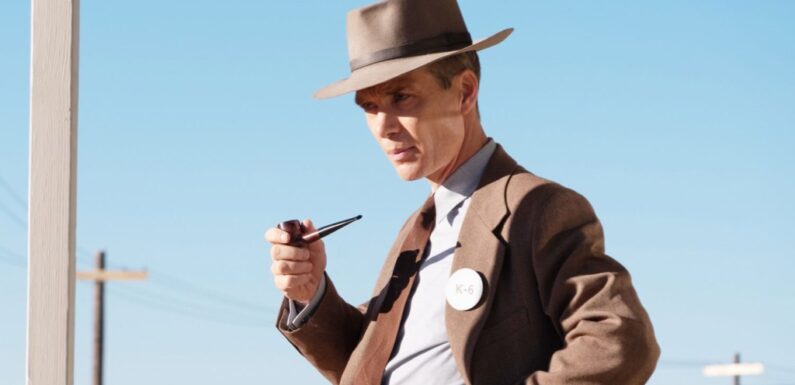 J. Robert Oppenheimer, the former director of Los Alamos Laboratory where the first atomic bomb was designed, squelched a petition from fellow scientists asking that the bomb not be dropped on Japan.
The biopic Oppenheimer bows in theaters this weekend.
Business Insider is reporting that Oppenheimer persuaded Edward Teller, one of the Manhattan Project's scientists, not to send along the petition. "Oppenheimer talked me out of it, saying that we as scientists have no business to meddle in political pressure of that kind," Teller said.
Related Stories
Breaking News
'Oppenheimer' Star Emily Blunt And Cast Leave London Premiere As SAG-AFTRA Strike Is Called – Update
Labor
'Oppenheimer' Cast Leaves London Premiere Before Screening As SAG-AFTRA's Official Strike Call Looms
On August 6 and 9, 1945, the United States dropped atomic bombs on Hiroshima and Nagasaki, Japan. More than 100,000 people died.
Three weeks earlier, dozens of scientists who worked on the Manhattan Project signed a petition to President Harry Truman, pleading with him to reconsider dropping the bombs they had helped create. They asked that Japan first be given a chance to surrender. 70 scientists signed the petition, which Truman allegedly never saw.
Must Read Stories
A Recap Of Day 1 On The SAG-AFTRA Picket Lines In Los Angeles & New York
All The Latest As SAG-AFTRA Heads To Studios For Day 1 While WGA Pickets Continue
Tom Cruise Action Sequel Still Eyeing $240 Million Global Opening Weekend
'Final Cut' Helmer & 'The Artist' Oscar Winner Michel Hazanavicius: The Film That Lit My Fuse
Read More About:
Source: Read Full Article