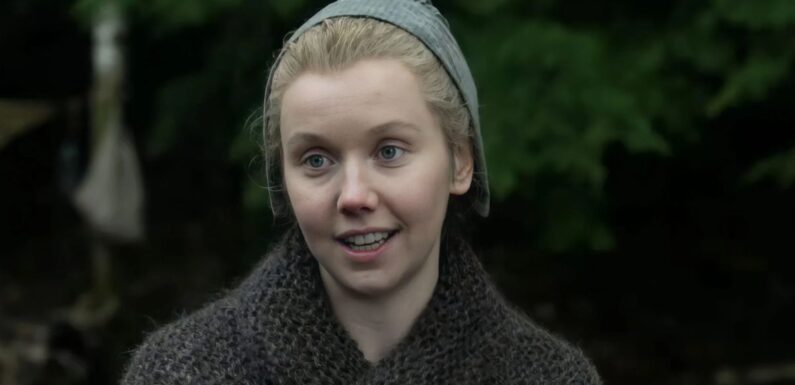 Maris Davis On Marsali And Fergus' Fate
Outlander star Lauren Lyle has revealed that she would "definitely" return to the hit show for the eighth and final season.
The 30-year-old Scottish actress plays Marsali MacKimmie Fraser in the Starz drama series, but hasn't been seen since season six.
"I love Marsali. She was the character that changed my life," the star admitted.
"I've been getting a lot of messages online saying, 'We miss you' and I keep wanting to be like, 'me too'.
"But then you never know how close to get [to the fans]," she confessed.
READ MORE: Anthony Head got 'mad' at Buffy co-star James Marsters over embarrassing accent
"It feels weird to not be in it, but it's just the way the world lay at that time and it happens and it's fine. I'm so glad the show is going well," she said in an interview with Digital Spy.
Outlander fans last saw Marsali and her husband Fergus (César Domby) in season six when they left Fraser's Ridge to provide a better life for their children.
They had faced difficulties following the birth of their son Henri-Christian who was born with dwarfism and many residents of the ridge thought he was punishment from God.
Ashamed of not being able to protect and provide for his family, Fergus attempted to end his own life.
He was stopped by Jamie Fraser (Sam Heughan), who along with his Aunt Jocasta (Maria Doyle Kennedy) arranged for Fergus to work in a print shop in New Bern.
Don't miss…
Daniel Craig and Rachel Weisz's living situation with their rarely-seen children[INSIGHT]
Pink snubbed Buffy the Vampire Slayer's Spike star over 'painful' performance[EXCLUSIVE]
Anne Hegerty admits Chasers have a hidden WhatsApp group 'to b****' about bosses[EXCLUSIVE]
We use your sign-up to provide content in ways you've consented to and to improve our understanding of you. This may include adverts from us and 3rd parties based on our understanding. You can unsubscribe at any time. More info
Although part two of season seven is still to air executive producer of the show Maril Davis previously confirmed exclusively to Express.co.uk that the beloved pair won't appear this season as the actors were busy with other projects. "No unfortunately, we'll not see Marsali and Fergus this season [seven]," she said.
"You know, Lauren was busy with a couple of other things as was Cesar so you know that was purposely in talking with those actors and where we decided to take this season, we don't see their stories unfortunately."
Lauren was actually busy filing her new movie Mercy Falls, a Scottish set horror film which is in cinemas now.
With series eight of Outlander set to be the final season, and yet to start filming, fans will have to wait and see if Lauren reprises the role.
Outlander airs on Starz in the US and streams on Lionsgate+ in the UK.
Source: Read Full Article