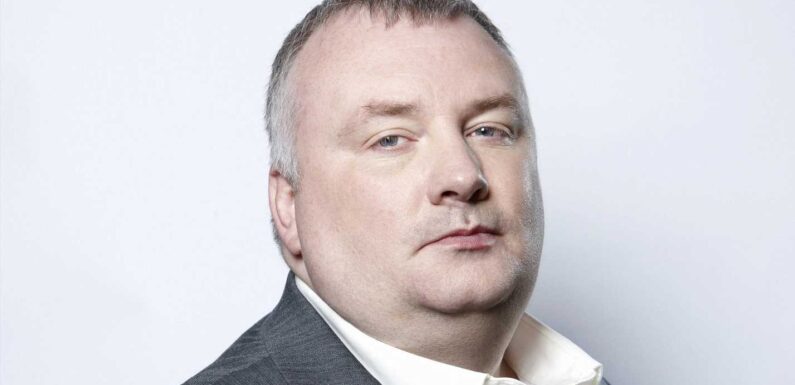 STEPHEN NOLAN is a BBC presenter who found himself making headlines in August 2023.
The Irish star has been working for BBC Ireland for two decades, and has many accolades and achievements under his belt.
Who is Stephen Nolan?
Stephen Nolan is a Northern Irish radio and television presenter.
He was born on August 20, 1973 in the Shankill Road area of Belfast.
Nolan has worked for BBC Northern Ireland and BBC Radio 5 Live, as well as hosting his own weekly TV debate and phone-in show, Nolan Live.
He first started working for BBC Northern Ireland back in 2003.
Read More on Stephen Nolan
BBC star 'deeply sorry' after claims he shared sexually explicit Stephen Bear snap
BBC boss responds as 'top presenter sent nude pics of Stephen Bear to staff'
The presenter has won twelve Sony Radio Academy Awards throughout his career.
He was also voted the Royal Television Society's Presenter of the Year in 2005 and 2006.
What is Stephen Nolan's net worth?
Nolan has an estimated net worth of around £3.9million.
The presenter is reported to earn between £400,000-£404,999 a year and is the BBC's fifth-highest paid talent.
Most read in Showbiz
I nearly died giving birth – Gorka was in tears reveals Gemma Atkinson
Legendary drummer dies at 70 as grieving fans and band-mates pay tribute
Britney Spears' husband breaks silence on divorce after he 'caught her cheating'
Britney's husband claims she cheated with housekeeper & gave him a black eye
What is Stephen Nolan accused of?
In August 2023, Nolan was accused of sharing sexually explicit photographs of reality TV star Stephen Bear with other BBC staff members in 2016.
It was reported that Nolan had sent two images of the former Celebrity Big Brother winner to some co-workers.
The pictures were allegedly sent as part of discussions to book the star on the Nolan Live television show.
Bear, who was jailed for 21 months in March 2023 after sharing a secret sex tape on OnlyFans, did ultimately appear on the show in 2016.
After the alleged pictures were sent, a complaint was made by one individual to management about the "sexually explicit images," leading to an investigation in 2018.
The images and subsequent investigation were then reported by The Irish News in 2023.
Days after reports of the incident came out, Nolan addressed the allegations on his morning radio show on Radio Ulster.
He said: "We have had days, as you probably know, of headlines about me and the Nolan team in the papers this week.
"I am not ignoring the story. It is just that the BBC has processes in place to deal with staff complaints and I do need to totally respect those processes.
"They have got to be confidential for them to work.
"I can say one thing though and it is that I am sorry.
"There was a photograph, it was widely available on the internet and I was talking to a long-term friend and peer outside of work.
"I am deeply sorry."
Prior to Nolan addressing the claims, BBC Northern Ireland's director Adam Smyth had released a statement regarding the reports.
The statement said: "There are important considerations of fairness and confidentiality involved in the handling of any workplace-related complaint.
Read More on The Sun
People are just realising why Snickers has its bizarre name
My face ballooned & I was hospitalised after I got eyelash extensions
"We take these obligations seriously – and in the interests of everyone involved.
"It is for these reasons that we cannot comment on the specifics of any individual case, who/what it may have involved or its outcome."
Source: Read Full Article