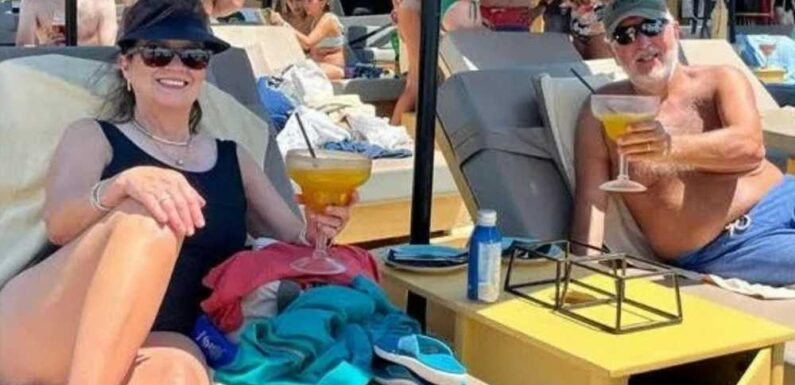 A RAGING tourist says he was forced to fork out almost £1,500 for squid by the gram and a few drinks at a notorious "rip-off" restaurant in Mykonos.
Robert Gonzales says he was lured in by "deceptive pricing" at Greece's DK Oyster before being slapped with a giant charge on his credit card.
The holidaymaker says he and his wife were told by staff they could have free use of a sunbed and an umbrella – so long as they bought at least two drinks.
He says they decided to splash out a few tipples, some calamari and a bottle of water.
But when the bill came, they were horrified to see they had been billed an eye-watering 1,616 euros (£1,400) as they had been charged by the gram for the squid snack.
Robert has slammed the venue as a "total scam" on review site Restaurant Guru.
He wrote: "Do not go to this beach bar establishment.
"They offered free use of a day bed and umbrella for a two drink minimum, which when the bill came cost $116 euros.
"For a single order of Calamari we were charged $148 euros (small print on menu says they charge by the gram, who does that?).
"Total bill for the two drinks, calamari, and one bottled water was $288 euros.
Most read in The Sun
Inside toxic row over mystery fire that destroyed Britain's wonkiest pub
Outrage as Diane Abbott says 41 migrants who died 'f***ed off to bottom of sea'
Creator of BBC sitcom dies suddenly leaving castheartbroken
Tyrique and Whitney in huge career change after Love Island
"Then when the credit card charge hit my account it was for $1,616 euros.
"Be warned. Do not go there!"
It comes after another tourist vowed never to return to the bar after being hit with a staggering bill for £450.
Amber Pace, 25, said she and a pal decided to spend the day at the restaurant, unaware that the venue has been accused of ripping off tourists.
After ordering two drinks and two appetisers, the two pals could not believe they were hit with the ridiculous bill of £450 (€520).
Amber, from New York, told The Sun: "I just saw the price £17 (€20) for the fried calamari I got and my friend got the king crab legs that said £28 (€32).
"I told our server three times 'please make sure it is the £17 (€20) one, I don't want anything more than that' and he kept saying he understood.
"We got our food and it was disgusting. Even before we knew the prices.
"My fried calamari was rubbery and had no flavour, and my friend's crab legs were super salty. 
"Our server gave us a paper receipt that said £85 (€98) for fried calamari and £160 (€185) for king crab legs. We nearly lost it."
In June a couple were left livid after they were charged £600 for two smoothies and a bowl of pasta.
Oscar Maldonado and his boyfriend said the pasta "wasn't that bad", but definitely not worth the painful £344 bill they were slapped with when they'd finished.
Another holidaymaker revealed how he was charged £360 for four drinks and a snack at the same restaurant.
Read More on The Sun
I tried Wilko's closing down sale for bargains & got home essentials for £1.80
Katie Price reveals adorable new puppy after seven pets died in her care
Jak Kypri, from London, was confident he wouldn't be ripped off because he spoke Greek – but was hit with the eyewatering amount for two tequilas, two beers and some shrimp.
Source: Read Full Article