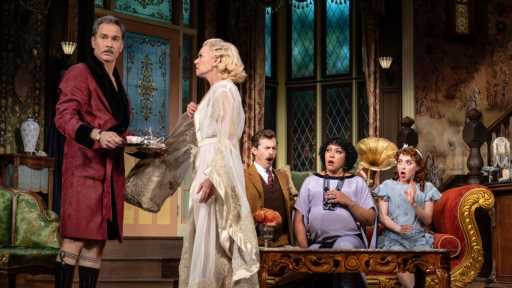 A posh country estate where half a dozen lovers unveil their infidelities is the setting of "The Cottage," which opened at Broadway's Helen Hayes Theater tonight. Set in 1923, this comedy of manners by the playwright Sandy Ruskin is so thoroughly old-fashioned that it may come as a surprise it's not based — like so many Broadway outings lately are — on existing material. Which is not to say that any part of it feels original.
This is a paint-by-numbers sex farce, with parameters that do not extend beyond the obvious: heterosexual marriage is restrictive for all, unreasonable for many, and, oh, so thrilling to transgress. The forbidden-fruit pleasures that "The Cottage" tries to pass off as a feast, in a lavish production directed by Jason Alexander, are familiar, superficial and fleeting.
Laura Bell Bundy's Sylvia certainly savors playing mistress to Eric McCormack's Beau. The play opens on the two of them preening and mugging the morning after their annual night of athletic bliss. (Accents are cartoonishly British throughout.) Sylvia is so deliriously pleased, in fact, that she's just sent breakup telegrams to their better halves. Only it turns out that their spouses, Clarke and Marjorie (Alex Moffat and Lily Cooper, respectively), are shagging each other, too, and more than just once a year — Marjorie is pregnant (and Cooper saddled with woefully oversized padding).
Oh, Beau and Clarke also happen to be brothers whose ailing mother owns their extramarital lovenest. Two additional soon-to-be exes, played by Nehal Joshi and Dana Steingold, eventually join the tell-all tea party, each harboring a secret identity that vies for second-act intrigue.
Sending up social mores will resonate as long as anyone presumes that human desire could ever play by rules. Monogamy is tough, no match is perfect, and people have sex society says they shouldn't. A new comedy set a century ago might retread such well-worn territory with any number of questions posed in retrospect — about sexuality, gender roles, patriarchy, capitalism, or any logic of manners, really. The most profound question approached by "The Cottage" is whether soulmates exist. (Spoiler: They don't.)
Even a coda suggesting that a woman needs a cottage of her own is undercut by a joke that she'd obviously still want to screw men there. And it's no wonder: "The Cottage" doesn't give women credit for wanting anything else.
The production, under Alexander's direction, works feverishly to mine laughs from repeated sight gags (like cigarettes outlandishly hidden in the decor) and from performances turned up to 11 that have nowhere to go. McCormack, who makes a believable-enough gigolo, is both underused and overshadowed. Bundy is as nimble and confident as an Old Hollywood star, swathed in blonde finger-waves and ludicrously glamorous night clothes (costumes are by Sydney Maresca). And Moffat, a "Saturday Night Live" alum, is an especially adept and precise physical comedian in what is essentially a drawn-out, after-midnight sketch.
But Rustin's characters aren't grounded in concerns beyond their carnal ones, so there's not much to root for beyond them swapping spit and sweethearts. Even the world-weary Marjorie, whom Cooper plays with muted energy, is an unlikely and horny jackrabbit.
At least there is ample scenery to chew: the soaring and absurdly ornamented set, a collage of printed wallpaper and rarified knick-knacks, by Paul Tate dePoo III, inspires curtain-up applause. It's the production's first and last moment of genuine revelation.
Read More About: