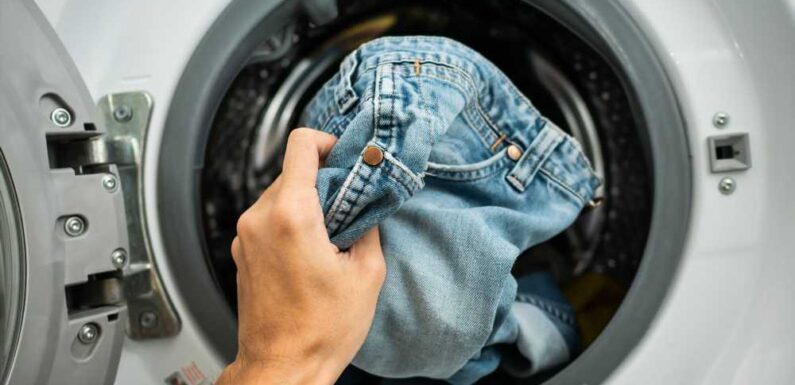 MRS HINCH fans have come to the rescue after a woman was left stumped over how her jeans got a stain from the washing machine.
Taking to social media, the woman posted a photo of her ripped denim jeans, where a lagre green-yellow stain could be seen. 
In the caption, she explained that the item of clothing was stain-free prior to putting them in the wash. 
"This stain has appeared After I've washed them, it wasn't there before," she wrote. "Does anyone know what it could be and how I get it out please". 
In the comments section, she added: "I worn them for the day and put them in the wash as you do, no marks or stains on them, I took them out of the wash and it was like that. 
"I'm confused myself. Guessing it's something to do with my washer but I've done another wash today and it's been fine". 
read more fabulous stories
Clever cleaning hack stops make-up stains on your tops for just 5p
I tried 4 viral makeup remover tips on my white top, the 'weird' option was best
People flocked to the Facebook post shared on the Mrs Hinch Cleaning Tips group to share their thoughts and top tips. 
Many suggested the woman would need to clean the filter of the washing machine to prevent any further stains on her clothes. 
"Think it means you're machines filter needs cleaning," one person said.
Another shared: "Clean your washer out with the Dettol laundry cleaner, your bottom filter and then get some of the vanish gel in a bottle. Rub that on, leave for 5 mins and then wash them with a scoop of the vanish powder but put that straight into the drunk x". 
Most read in Fabulous
Take care what you post, text or say all day – as words can run away with you
Paris Fury on the parenting duty Tyson takes on & how many kids they want
How Kate Middleton has 'rebranded' herself as 'softer' after Meghan Markle drama
Inside Kate & Wills' 'secret' £3k Heathrow terminal – including 96 staff
Others, meanwhile, shared their tips on how to get the stain off with one person suggesting a £2 product that can be found in any store.
"This is fab for stains," they wrote before posting a photo of Ace Gentle Stain Remover, which sells for £2 from Ocado, Amazon, and more. 
This wasn't the only suggestion however as one person shared: "Spray with loads of elbow grease spray. For 10 minuits. Respray and wash in your machine. Brilliant for all stains. Even blood".
Another said: "I second a good spray of Elbow Grease then wash". 
While a third posted: "Elbow grease spray will lift it out". 
Elbow Grease can also be found from most stores for £2. 
What's your life saving stain remover hack?
Source: Read Full Article