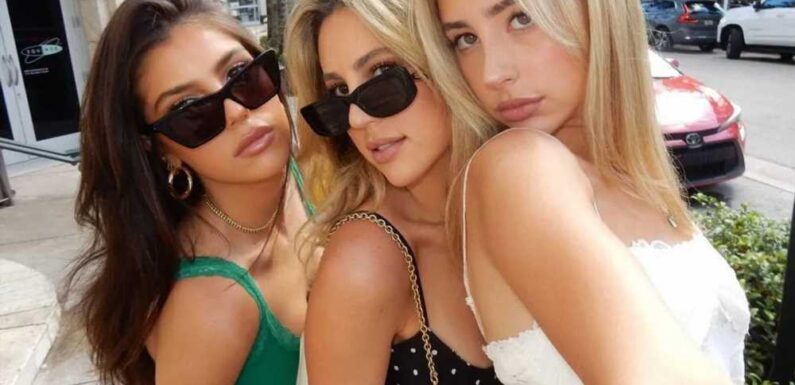 WITH a world-renowned actor for a father and a supermodel mum, it's no wonder big things are predicted for the Stallone sisters.
Sophia, Sistine and Scarlet are tipped to be the "next Kardashians" after winning over an army of fans from their reality show The Family Stallone, which broke viewing records on Paramount+.
Backed by the £325million ($400million) fortune of Sylvester Stallone and Jennifer Flavin, the talented trio first made headlines back in 2017 when they were named as Miss Golden Globes.
Since then, they've appeared on magazine covers, starred in films and signed lucrative modelling deals that could soon see them eclipse the Kardashians. 
As Netflix release Sly, a new documentary about Sylvester, PR guru Carla Speight predicts one of his daughters could "rival Jimmy Fallon" and the sisters could outshine their famous parents.
She tells us: "As a collective, the girls are a force to be reckoned with.
READ MORE ON CELEBS
TOP TRAMPS
Inside nightclub where royals & stars behaved so badly they should 'be in jail'
TAYLOR MADE
Inside Harry Styles' new love's rise to fame after 4-year wait for first role
"The fact that all three of them clearly get along is great, it's authentic and with all three of them having the ability to come together on jobs as well as carve out their out careers is fantastic.
"Their individual followings offer them the chance to make a real impact in putting a spotlight on each other's careers.
"Collectively they've got a huge audience between them, making them an ideal booking for most opportunities.
"These girls are definitely making strides in the industry and could eventually even cast their shadow over the Kardashians, with their multitude of talents lifting them up into the spotlight. "
Most read in Celebrity
staying strong
Chloe Madeley and James Haskell put on a united front after marriage split
DING DONG!
How Carry On star Leslie Phillips' wife is being forced out of family's £5m home
THERE FOR HIM
Matthew Perry's devastated Friends cast mates seen at tragic star's funeral
JEN-SATIONAL
Celeb SAS star Jennifer Ellison looks incredible as she hits the beach
Here we look at what the Stallone sisters have done so far and how they could make their next moves to go toe-to-toe with the Kardashians.
Sophia Stallone
Eldest daughter Sophia, 27, graduated with a communications degree with a minor in film and appears to be putting it to good use by forging a social media empire.
She is said to be the daughter who "most resembles her father" – but instead of going into acting wants to be an entrepreneur. 
In 2017, she told The Hollywood Reporter: "I want to be an entrepreneur and run my own fashion and make-up line.
"I think today it's all about digital and social media, and so being recognized is a huge asset… so getting my face out there is a big part of it."
During the chat, Sophia pointed to Kylie Jenner's success and noted how her "Lip Kit [was] blowing up" due to her fame. 
Sophia, who made her first TV appears on Sly's reality show The Contender in 2005, got her big break alongside her siblings when they were named Miss Golden Globes in 2017.
The prestigious title – which is awarded to celebrity children – comes with some ambassadorial responsibilities but gives them huge exposure on of showbiz's biggest nights of the year. 
It led Sophia and Sistine to land a Dolce & Gabbana advert and deals with brands like Australian leather company The Daily Edited. 
Since then, she has been a guest judge on Project Runway and appeared on the Today programme, Entertainment Tonight, Access Hollywood and Live With Kelly and Ryan. 
As of 2020, Sophia and Sistine have hosted their own podcast Unwaxed, which documents their lives in the world of celebrity.
They claim reality show The Family Stallone was their idea and came about after a producer approached them to do a TV version of their hit podcast.
Carla tells us: "With a CV as stacked as hers, it won't be long until she's hosting the next hit show for the likes of MTV, or a hit chat show giving Jimmy Fallon a run for his money.
"With her following alone, brands will be fighting for her to promote them, whilst hoping her sisters show support and share the collabs. Deals like that for her I would expect 7 figures."
Sophia, who has 1.7million Instagram followers, also has a online book club, which has nearly 30,000 Instagram fans.  
It's led her to start work on an adult romance novel and a historical fiction – she is "a quarter-ish way through" the latter.
Carla says: "Publishers would do well to snap her up as an advocate for their books.
"They could have her on retainer which annually could bring in seven figures pushing at least one of their books via her digital book club or more if she opened it up to different audiences such as specific age groups, genders or social purposes."
Sistine Stallone
Sistine, 25, is taking a leaf out of her mum's book and has put most of her energy into carving out a modelling career.
In 2017, she told Hollywood Reporter: "I'm good at modeling because I don't have to talk… My mother is a model. I have dreamed about being a model since I was a little girl."
She was signed by IMG models back in 2016 and that same year was named as a "fresh face to watch" by Vogue magazine.
Since then, Sistine has walked in Chanel's Métiers d'Art show and appeared on the runway for Dolce & Gabbana at Men's Fashion Week in Milan.
Early on in her career, she appeared alongside modelling titans including Emily Ratajkowski, Gigi Hadid and Kendall Jenner in a shoot for Love magazine.
This year, Sistine topped up her credentials with shoots for Versace and in recent times has had magazine spreads in Elle, Glamour, GenV and Dolce.
Modelling appears to be her main goal but she has appeared in a few films including the 2019 horror flick 47 Metres Down: Uncaged and 2021 flick Midnight Switchgrass alongside Bruce Willis and Megan Fox.
In on episode of The Family Stallone, she revealed has been a producer and writer for the upcoming horror film Scavenger Hunt.
She's been working on the script since 2018 and recently the film was accepted by major studio MGM.
Sistine's variety of skills could prove to be a real money-spinner when it comes to her career, according to Carla.
She tells us: "She has already proven herself as the perfect sales woman, which has come from her acting, presenting and modelling experience.
"With that recommendation, she has the ability to rival her father's legacy in the movie industry – both in-front and behind the camera."
Sistine could also look to replicate her mother's skincare empire and is already building her credentials by recommending beauty products online. 
This year, she told Women's Wear Daily: "[Mum] really knows how to sell. I would love to emulate her and start a business of my own."
And it seems dad Sly is backing her every move. Speaking of her determination, he said: "She'll just ram it, full steam ahead and consequence be damned. And hopefully, it'll turn out."
Like sister Sophia, she has 1.7million Instagram followers. 
Carla says: "Just like her sisters, she has the modelling background and huge names on her CV, which will be bringing in big money, the levels her mum is used to achieving." 
Scarlet Stallone
Youngest sister Scarlet, 21, is the actress of the family and is said to be the child "who is most closely following in her father's footsteps". 
Last year, she told her sister's podcast: "I've wanted to act my whole life… Ever since I was 14, I wrote in the back of my book, 'I'm going to star in a movie with dad.'"
Scarlet got halfway to achieving that dream by appearing with him in five episodes of Tulsa King and impressed him despite being "super nervous". 
Dad Sly was watching to see if she had the skills to make it in the industry and said: "She blew me off the screen." 
Aside from that she acted in the 2014 fllm Collection and has done a raft of TV interviews to promote the family's reality TV show.
Carla tells us: "Her acting is already taking off and giving her notoriety, that points towards a long-standing lucrative career, similar to what her father achieved, if not better.
"I's not nepotism, it's her talent that got her through the auditions. Like her sisters, she also has the opportunity to model.
Scarlet has 917,000 Instagram followers at present and is likely using it to her advantage, according to Carla.
She says: "Although she has less of a following than her sisters, she will already be achieving six-figure deals with brand collaborations.
"She's acted alongside A-listers, has a huge following and fashion brands, movie directors, and any casting agent would be foolish to overlook Scarlet.
Scarlet attends the University of Miami and is dating fellow student Louis Masquelier-Page, who she was recently pictured smooching in a Halloween snap. 
'Momager'
Mum Jennifer Flavin has carved out an impressive career – and has been compared to 'momager' Kris Jenner. 
Jennifer, now 55, signed up to prestigious Elite Modeling Agency when she was 19 years old. 
The mum-of-three graced the covers of magazines like Marie Claire before transitioning to sell beauty products and treatments online.
Jennifer is described as "the driving force behind each innovative product" for her brand Serious Skin Care, which sells products on shopping network channel ShopHQ.
Last year, insiders told us the savvy businesswoman has "always wanted her daughters to spread their wings more and become bigger industry figures".
Read More on The Sun
Gleam queen
I love my new Turkey teeth but trolls say they're the worstthey've ever seen
FLAMIN-GO
Exotic island yet to become popular with Brits – with amazing weather & flamingos
They said: "People have been telling them for years that they should be the next Kardashians…"
And in the wake of the popularity surrounding their reality TV show, those opportunities may just present themselves. 
Source: Read Full Article