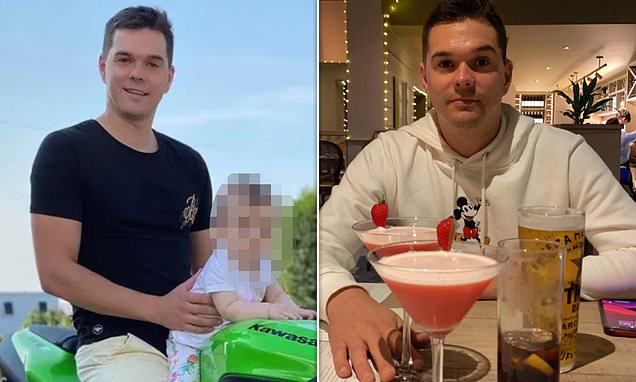 Father, 33, who sold his car and swapped to a motorbike to meet his rising mortgage repayments is killed in collision on way home from work
 Father-of-one who swapped his BMW for a motorbike was killed in a crash
 Matthew Woodward, 33, sold his car to keep up with mortgage payments
A father who sold his BMW car and swapped to a motorbike to help cover his rising mortgage bills died while riding it on the way home from work. 
Matthew Woodward, 33, was on his way home from his job as a HGV driver when the bike collided with a car shortly before 5am on the A48 road in South Wales near the village of Bonvilston.
Both Mr Woodward and the driver of the car died in the horror crash on Friday morning. 
Friends said he had been worrying about the cost of living when he decided to swap his car for the bike because it was less expensive to run, just weeks before his death.
Mr Woodward paid tribute to the 'gentle and kind-hearted' man who leaves behind a three-year-old daughter and fiancée.
Matthew Woodward was killed while on his bike in a road accident in South Wales
The father-of-one swapped his car for a motorbike in order to cover his rising mortgage costs
Friend Oscar Jenkins, 33, paid tribute to Mr Woodward, known as 'Woody' as they began a fundraising campaign in his memory.
He said: 'He was talking about the cost of living and how he was thinking of moving away from being a lorry driver and becoming a train driver.
'A week or two earlier he'd sold his BMW because the mortgage rates had gone up so much.
'Woody was the most gentle and kind-hearted person and that's not just me saying it as a good friend.
'He was very softly spoken and sensitive without a bad bone in his body.'
He said Matthew, who was from Shrewsbury, met Lauren at university and moved to Barry, South Wales, to be near her family.
Mr Woodward moved to be with his fiancée Lauren Goodman in South Wales
He added: 'But he was always the one who made that push to get together with our group of friends from Shrewsbury whenever possible.'
Oscar said he had last seen Matthew just four days before his death.
He said: 'His fiancée had by pure chance arranged to have her eyebrows done in the area so he popped in to see us on Monday.
'It had been my birthday a couple of weeks before that and Woody hadn't been able to make it so he ordered a curry takeaway, brought four or five beers, and said: 'This is for missing your birthday.'
'We sat down and it was lovely. Looking back it's so incredible that we had that opportunity to see him a final time.'
Source: Read Full Article