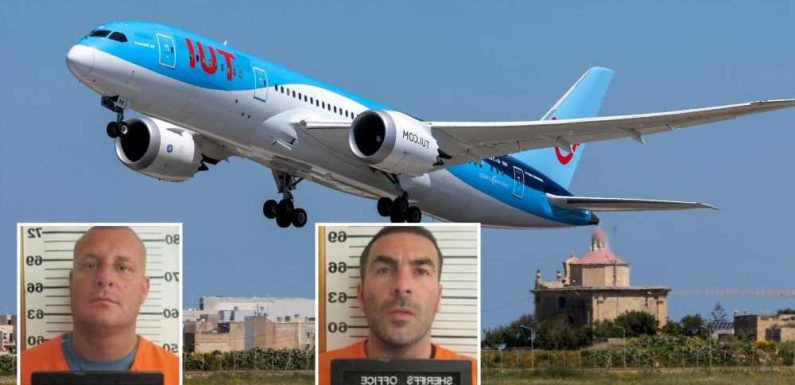 TWO Brits face up to 20 years in a federal jail after an alleged drunken brawl forced their holiday jet to divert to the US.
Anthony Kirby and Damien Murphy, both 36, are accused of rowing with other passengers and racially abusing cabin crew on the Tui Airways flight from Cancun to Manchester.
Murphy is also alleged to have pushed a flight attendant who tried to calm him down.
And Kirby is said to have hit a passenger sitting three rows in front of him after the plane landed.
An FBI affidavit alleges they were among three men who caused mayhem on board the holiday jet on Monday evening.
Trouble erupted a few hours after it took off from the Mexico resort.
read more on flights
Passengers receive terrifying bomb threat on phones as plane lands at Gatwick
Shock moment Brit brawls with easyJet passengers as pilot diverts flight
Kirby, Murphy and a third man are said to have reached into a duty free bag to carry on boozing after cabin crew refused to serve them more drinks.
They also made racist remarks about the flight crew and passengers while filming on their phones, court papers allege.
The chaos escalated over US air space with a number of passengers out of their seats and shouting at each other, the FBI said.
The captain gave the men several warnings to behave before finally diverting to Bangor airport in Maine at around 10pm local time.
Most read in The Sun
Baby boy dies at nursery as six women are arrested
Strictly feud 'revealed' as Hamza unfollows Giovanni
Next to make huge change – and shoppers won't be happy
Harry says Wills 'attacked' him and ripped necklace in bombshell book
Murphy and Kirby were escorted off the jet along with a third man, who was not charged with any offence.
A video shared online showed Kirby laughing as he was led away clutching his duty free bag.
Murphy looked less cheerful as he appeared to barge past two policemen to exit the jet.
Holidaymaker Caroline Farbridge, 56, told Mailonline: "The passengers clapped and cheered when the US police came on board because we were so desperate to get these men off.
"They behaved in a truly despicable way.
"They were drunk even before they got on the plane – one of them was so paralytic he could barely walk."
She added: "The captain gave them plenty of warnings, so they've only got themselves to blame."
Another passenger on board said: "It was total pandemonium on the plane soon after it took off.
"It was obvious that these lads were drunk out of their heads.
"They were swearing in front of young families and were a total disgrace.
"When the plane landed in Maine, one of them hit another passenger around the face and screamed 'You fat scouse c***'.
"It ruined what had been a lovely holiday for a lot of people, but we were delighted when the US police kicked them off the plane."
The two men appeared in court on Tuesday on federal charges of assault and interfering with a flight crew.
The US attorney's office for Maine asked that the accused should be held in custody until their cases are resolved because they live outside the US.
They reportedly agreed not to apply for bail.
If convicted they face a maximum sentence of 20 years in jail and fines of up to £210,000 each.
An FBI report filed at the court alleges: "During the flight the men became loud and disruptive.
"While the aircraft was over Florida, Kirby, Murphy and the third man made racist comments to the crew and passengers while filming their interactions with the crew and the other passengers with their cameras.
"The behaviour caused the flight crew to change seats."
Read More on The Sun
Beloved Benidorm star looks unrecognisable 11 years on – and is dating co-star
I spent £100 taking kids to 'dreamland' children's event – it was a rip-off
A total of 328 passengers and ten crew were on board the Boeing 787 Dreamliner operated by Tui.
The plane took off later to continue the journey, landing in Manchester on Tuesday morning around four hours late.

Source: Read Full Article