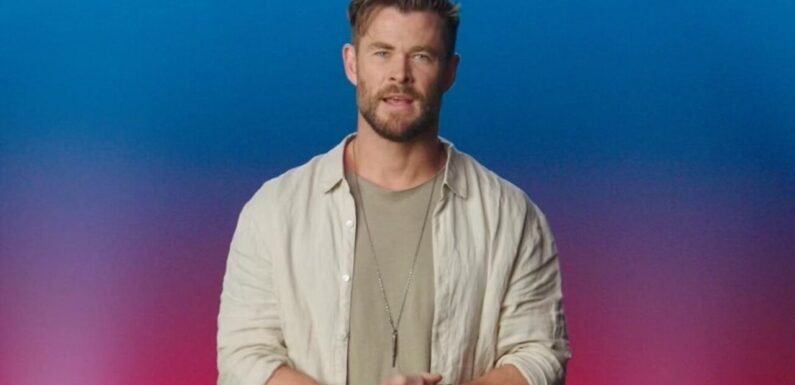 A friend of the 'Thor' actor recalls offering to teach the Marvel star how to deejay but the movie hunk insisted he just needed to 'push play and walk away.'
AceShowbiz –Chris Hemsworth's DJ pal Paul Fisher wanted to teach his 39-year-old pal how to DJ, but the actor insisted it didn't require any particular skill. "He says, 'You just push play and walk away, mate.' He's more of an Ed Sheeran kind of guy," his pal explained.
Paul also said his best friend missed his show in Ibiza because he got "too p*****." The "Extraction" actor had gone to the party island to see Paul in action, but he struggled to keep up the pace with fellow revellers and had to have an early night due to overindulging.
Paul told digital radio station Capital Dance, "Chris came to Ibiza and didn't make my show because he got too pi**** beforehand. He started spewing everywhere. He's gonna hate you putting that on the air because he's a p****."
Meanwhile, Chris – who has India, 11, and nine-year-old twins Tristan and Sasha with wife Elsa Pataky – recently admitted he has become choosier about his work now his kids are older because he doesn't want to "upheave" them too much. He told Entertainment Weekly, "My kids are in school, and they're of the age where it's not as easy to upheave their life and travel across the world."
The actor is best known for playing Thor in the Marvel movies but Chris would also love to star in different kinds of films moving forwards. The Hollywood star said, "I've done so much gritty action and fantastical aesthetic."
"It'd be nice to be a little … what's the word, cleaner? Not be covered in blood and dust and dirt and being shot at. I'm sick of being beaten up. But watch, I'll get sent a bunch of things that completely contradict what I've just said, and that's where I'll head."
You can share this post!
Source: Read Full Article