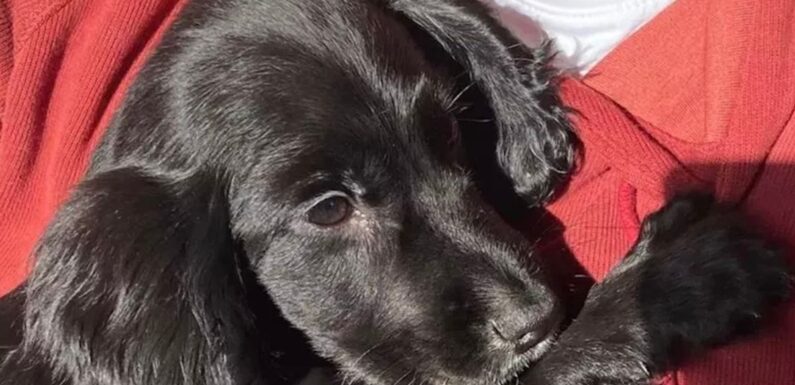 Dog lovers have been left disgusted at the owners of a dumped six-legged spaniel.
Ariel, who earned her name for her mermaid-like appearance, was taken to Fenton Vets in Haverfordwest by Greenacres Rescue Local Authority Dog Warden. Now she could be getting her additional legs removed with early indications that she is largely in good condition despite the birth defects.
But despite hopes that the female black spaniel can go on to have a full and happy life, people have been left fuming on Facebook about her treatment. Suffering and fear the pooch likely endured prior to her rescue has caused an outpouring of fury and emotion in the comments section of a Facebook post by WalesOnline.
READ MORE: What robot spy animals could look like according to AI – from fish to creepy bugs
For the latest news from the Daily Star, click here.
Letting their feelings be known, one person said: "This is absolutely disgusting and the people who dumped this poor beautiful dog should be ashamed of themselves! If they couldn't look after her then why not take it to a centre so it could be cared for.
"To dump a defenceless puppy is so cruel as the poor thing must have been terrified. I'm so unbelievably upset about this and to be honest it's made me cry."
Some online have suspected that the Ariel may have been dumped as part of a possible connection to puppy breeding. One person said: "So sad as she is clearly [from] puppy farm bad breeding. I hope she now has a long life without pain from this".
Others just showed their support for the pooch, with one saying: "What an absolutely stunning girl. She is beautiful". Another added: "What an absolute angel, she is gorgeous. This is what happens when greedy people keep breeding. I love this little girl."
Ariel's hips are partly defective due to the extra limbs, with a vet from the practice previously tellingWalesOnline: "On investigation, Ariel has two additional hind legs and the beginnings of a second vulva. Her pelvis hasn't formed properly due to an extra hip joint.
"The plan would be to let her settle after her ordeal and reassess in one month with the aim of removing the additional limbs and exploring the function of her remaining leg; she is likely to need multiple surgeries."
You can donate to Greenacres Animal Rescue here .
For the latest breaking news and stories from across the globe from the Daily Star, sign up for our newsletter by clicking here .
Source: Read Full Article