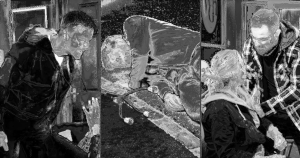 There is a lot of aggression in Coronation Street next week, with video clips showing Cassie Plummer (Claire Sweeney) being brutally attacked by drug dealer Dean, and Ryan Connor (Ryan Prescott) losing it with Carla (Alison King).
Corrie is a tense place at the best (worst) of times but the upcoming episodes see some very serious outbursts.
Still battling with addiction, Cassie is in hot water, owing Dean money. And when he turns seriously nasty, she is left terrified.
Meanwhile, addicted to steroids, Ryan is constantly on edge. So when well-meaning Carla tries to help out regarding the online comments, he explodes so badly that Peter Barlow (Chris Gascoyne) has to intervene.
Elsewhere, there are heartbreaking scenes for Paul Foreman (Peter Ash) as his symptoms take hold and send him collapsing to the ground, leaving Bryn on his own…
Monday August 21
To view this video please enable JavaScript, and consider upgrading to a webbrowser thatsupports HTML5video
Cassie meets with drug dealer Dean, she says she'll have his money soon but is desperate for more.
Dean grabs Cassie but Michael sees them, Cassie pretends they're a couple to get Michael to go. However on their own, Dean throws Cassie to the floor.
Wednesday August 23
To view this video please enable JavaScript, and consider upgrading to a webbrowser thatsupports HTML5video
Paul is watching Bryn play in the park and he tries to get him to head back. But Bryn runs off and Paul falls to the ground as he tries to chase after him.
Unable to get up a terrified Paul desperately calls after Bryn.
Friday August 25
To view this video please enable JavaScript, and consider upgrading to a webbrowser thatsupports HTML5video
With Ryan having posted a picture of his scars, Carla tells Ryan to delete any nasty comments, but Ryan's rage rises and he throws a glass against a wall. As he threatens Carla, Peter arrives back and slams Ryan against the wall.
Source: Read Full Article