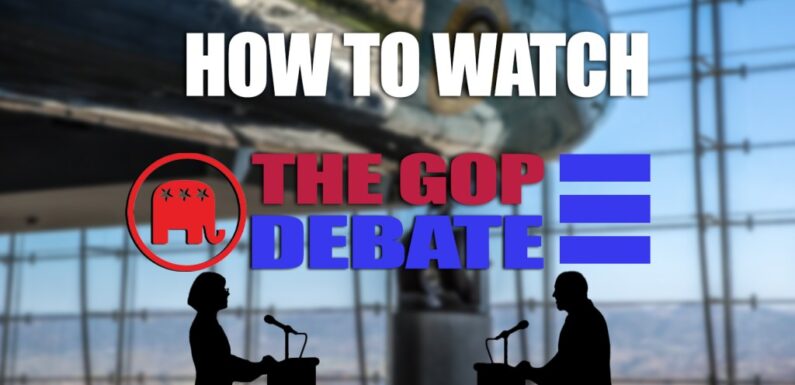 The second Republican presidential primary debate of the 2024 cycle takes place Wednesday at 9 p.m. ET/6 p.m. PT at the Ronald Reagan Presidential Library in Simi Valley, CA. Fox Business Network and Univision are hosts and will air the event live, with simulcasts across Fox News Channel and Fox Media's digital platforms including Fox Nation.
The two-hour event is being co-moderated by FBN's Stuart Varney, FNC's Dana Perino and Univision's Ilia Calderón. Univision's Spanish-language broadcast will be a first for a GOP primary debate.
The debate will also be available on-demand in Spanish on the ViX streaming service beginning at midnight ET.
Related Stories
2024 Presidential Election Debate Schedule: Dates, Times, Who'll Be There And Who Won't
Fox News' Dana Perino On Another Trump-Less GOP Debate And Why Voters Are Still "Open Minded" About An Alternative
After the first debate of the cycle in August in Milwaukee drew eight GOP candidates as well as 12.8 million viewers on Fox News, which carried the debate exclusively along with Rumble.
For tonight's debate, seven of those candidates return after meeting even greater donor and polling benchmarks. The list: Florida Gov. Ron DeSantis, Vivek Ramaswamy, former South Carolina Gov. Nikki Haley, Former Vice President Mike Pence, South Carolina Sen. Tim Scott, former New Jersey Gov. Chris Christie and North Dakota Gov. Doug Burgum.
To qualify all candidates also had to sign a pledge promising to back the eventual GOP nominee.
Former Arkansas Gov. Asa Hutchinson, who appeared in the first debate, did not make the cut tonight, coming up short in fundraising and polling.
Donald Trump, the clear frontrunner in the GOP race, did not attend the first debate and is planning to counterprogram tonight's debate with a primetime speech in Detroit in front of a crowd that will include striking autoworkers.
Trump, who has been indicted in multiple criminal cases for his role in attempting to undermine the 2020 presidential election results and at the January 6 insurrection at the U.S. Capitol, will be swinging in to California later this week to attend the state Republican convention in Anaheim.
To date, no other GOP debates have been scheduled.
Must Read Stories
Dianne Wiest Not Returning For 'Mayor Of Kingstown' Season 3
WGA Strike Officially Over As Guild Leaders Approve Tentative Deal With Big Gains
Oliver, Maher, Colbert, Kimmel, Fallon & Meyers All Returning In Coming Days
Broadway-Bound Betty Boop Musical Finds Its Beloved Baby-Faced Flapper
Read More About:
Source: Read Full Article