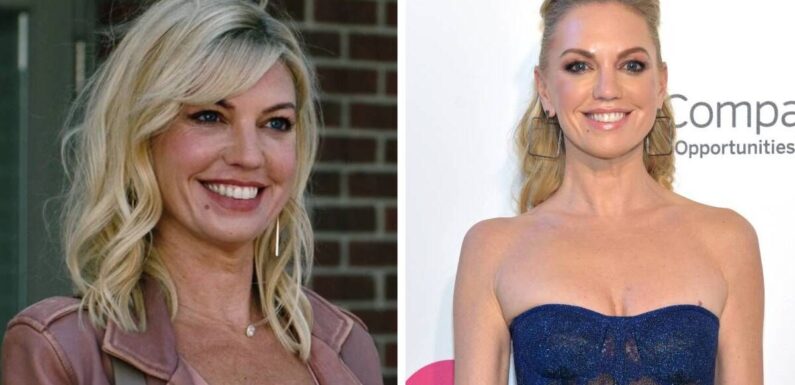 Watch the trailer for Yellowstone Season 5
WARNING: This article contains spoilers from Yellowstone. 
Yellowstone has seen many faces come and go during its five-season reign so who was the actress behind Victoria Jenkins? 
Paramount Network viewers are still eagerly awaiting the Western drama's return with season five part two ready to come out next month. 
In the meantime, many fans have been reliving some of the show's best moments from the very beginning. 
Back in season one, real estate developer Dan Jenkins was causing problems for the Duttons as he was desperate to get his hands on some of the Yellowstone ranchland. 
His actions don't go unnoticed by John Dutton (Kevin Costner) and his children though and they weren't afraid to make Dan's family aware too, including his wife.
Read more: Yellowstone networks at war as Peacock takes swipe with rival ads on CBS
Who plays Victoria Jenkins in Yellowstone? 
Taking on the role of Dan's wife Victoria Jenkins in Yellowstone season one was actress Barret Swatek. 
She only appeared in a couple of episodes but has managed to leave an impression on first time viewers and long-term fans alike. 
Actress Swatek, who was born in Alabama, initially dreamed of being a figure skater when she was younger, competing from age five to 12. 
This was until she found a passion for performing and began singing and acting at her local theatre and has since been in a number of popular shows and films.
DON'T MISS…
Yellowstone is back on screens tonight – but it's not a normal episode[EXPLAINER]
Yellowstone fans 'work out' reason Beth Dutton is 'f**ked up' with flashback[REACTION]
Here's when you can watch Yellowstone on CBS tonight[UPDATE]
Some of Swatek's projects over the years have included Power Rangers Turbo, Just Shoot Me!, Three Sisters, 7th Heaven, 10 Things I Hate About You and 2 Broke Girls. 
Her biggest role to date was in MTV's sitcom Awkward as Ally Saxton for five years, before briefly joining the cast of Yellowstone in 2018. 
She has since featured in an episode of Amazing Stories as Mrs Wilkes and played Sage in American Housewife on ABC. 
Going by her IMDb profile, there doesn't seem to be anything in the pipeline for Swatek just yet.
We use your sign-up to provide content in ways you've consented to and to improve our understanding of you. This may include adverts from us and 3rd parties based on our understanding. You can unsubscribe at any time. More info
So far, an official return date hasn't been announced regarding Yellowstone season five part two. 
The midseason finale concluded in January with fans desperate to find out what happens next to the Duttons. 
And with Paramount Network already confirming there won't be a sixth series, anything could happen to the powerful family. 
Yellowstone season 5 part 2 will premiere in November 2023 on Paramount Network.
Source: Read Full Article