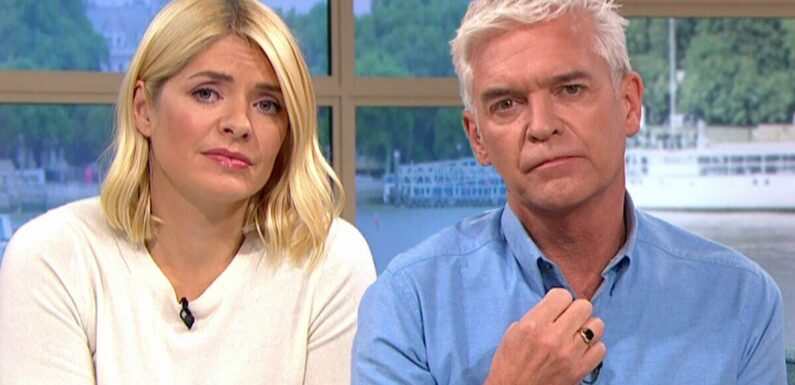 Phillip Schofield: PR expert on Holly Willoughby's future
Holly Willoughby, 42, has endured a difficult few days since co-presenter Phillip Schofield admitted to an affair with a young runner on the show.
The former model has maintained she knew nothing of the relationship that has rocked the show as some former ITV stars have questioned her role on This Morning.
However, it seems that Holly won't be going anywhere without a fight.
Speaking to The Mirror, a source said that Holly has no intentions of quitting This Morning, and hopes to "ride out the scandal".
"The only way in which Holly would ever choose to leave the ITV programme is if the show itself was axed as a whole," the source claimed.
"Holly wants to stay at This Morning as long as she can, and hopes to ride out the scandal. Other stars like Stephen Mulhern are being approached to fill in for Phil when she returns.
"Some are reluctant to go in and face angry viewers," the source said.
"Holly is determined to stay put – the only reason she would leave now is if This Morning is axed. She has absolutely no plans to leave."
It comes as Phillip's admission of an affair with a younger, male ITV colleague – that he lied to his bosses and family about – has left his career in tatters and plunged his beloved show This Morning into a scandal.
Don't miss…
Ian Huntley rushed for cancer tests but given all-clear[LATEST]
Jeremy Clarkson speaks out as police report man 'behaving strangely' at his shop[LATEST]
Phillip Schofield insisted his wife knew everything before affair news[LATEST]
According to The Mail on Sunday, Phillip met the young man when he was just 15 after visiting his school.
Phillip, 61, then helped the land the teen a job in TV when he turned 18 with a coveted role as a This Morning runner before a romantic relationship between the pair began sometime after.
After years of cover-ups, with Phil apparently lying to the whole ITV team – including best friend and co-presenter Holly Willoughby – his extra-marital affair finally came to light with the TV star sharing it all in a bombshell statement.
The reason the cards came crashing down around the long-serving presenter has finally been revealed.
Phillip is said to have been "forced" to confirm the allegations he has dodged for years because his former lover, unexpectedly confessed all to the lawyers he hired for him.
The TV presenter had hired top law firm Mishcon de Reya to represent his former partner, who is now in his mid-20s, "presumably believing that he would keep quiet", the Mail on Sunday reported.
According to the publication, Phil's unnamed ex told his legal team that while he feared being exposed and he was growing tired of lying about the relationship himself.
His move led to Schofield having to admit what had really happened to his management company of 35 years, before going public with his statement.
Source: Read Full Article